Join us this Wednesday for "A Night In Alsace, France". We'll be tasting 8 wines, including 3 Grand Crus, from Domaine Bott-Geyl and offering the following menu of classic Alsatian food prepared by our partners at Kitchen Catering. Bring friends. Come hungry and make an evening of it.
Tarte Flambée – $11
Bacon and Onion tart. Served with small salad.
Fleishchnacka – $12
Pastry and meat "snails". Served with small salad.
Choucroute Garnie – $15
A platter of sauerkraut, pork and sausage. A famous Alsatian dish.
Soupe a la Biere (Vegetarian) – $11
A hearty potato-leek soup with beer and croutons.
::::::::::::::::::::::::::::::::::::::
About The Wines:
Domaine Bott-Geyl has been making wine in Alsace since 1795. This legendary family winery is certified organic and biodynamic, harvests all grapes by hand and ferments naturally. Our free tasting includes all 8 of their wines.
2012 Muscat d'Alsace "Les Elements"
An elegant nose of white flowers and ripe fruit. The perfect aperitif.
2012 Pinot d'Alsace Metiss
Aromas of honey and underbrush mix with strawberry and sweet custard cream. The palette starts with plenty of fruit and cream but finishes fresh and dry. A blend of Pinot Blanc, Pinot Auxerrois, Pinot Gris and Pinot Noir.
2011 Pinot Gris "Les Elements"
Intense with subtle hints of smoke, flavors of honey and conserved fruit finish with great finesse.
2012 Gewurtraminer "Les Elements"
Exotic aromas of rose petals and lychee, spices and honey. A full bodied wine with balanced sweetness, spice character and serious flavors of mineral and almond.
NV Cremant d'Alsace Extra Brut Paul-Edouard
Aromas of mineral and straw lead to flavors of pears, cream, papaya and citrus. A blend of Pinot Blanc, Chardonnay, Pinot Noir.
2010 Riesling Grand Cru Mandelberg
Ripe citrus, honeydew, papaya and star fruit on the tropical nose.  Sweet and velvety-smooth in the mouth, but with high acidity giving lift to the tropical fruit and vanilla flavors.  Finishes bright and persistent.
2008 Pinot Gris Grand Cru Sonnenglanz
A beautiful wine, fully mature and wonderfully ripe. It has all the elements of mature Pinot Gris: great swathes of spice, almonds, a good slash of acidity and honeyed sweetness.
2008 Gewurtraminer Grand Cru Furstentum
Complex aromas of apricot, minerals, spices and white pepper. Highly concentrated and quite sweet, but with juicy, edgy acidity giving a distinctly youthful quality to the lush honey and spice flavors.
Date: Wednesday, December 17th
Time: 5:30pm to 7:30pm
Location: The Wine Guild/Kitchen Catering (606 Rivanna Ave.)
Share this with friends. We love seeing new faces.
Posted on Nov 28, 2014 by Wine Guild.
This Wednesday 's free tasting is a humdinger. We'll be pouring 8 of the highest scoring wines we've ever poured. 8 wines that have a combined price tag of over $650 . Wines that never appear at free tastings. Until now.
We'll also have the following Argentinian food available.
Come hungry and you can order any of the following items.
Trio of Empanadas with an Aji dipping sauce – $12
Beef with olives and raisins
Chicken with olives and hard boiled egg
Vegetarian with potatos, carrots and butternut squash
Argentinian Asado – $16
Steak, Lamb, and Sausage with chimichuri and potatoes
Gnocchi (Vegetarian) – $12
Pumpkin, sweet potato andd herb Gnocchi with an Yerba Maté sauce.
Now, back to the wines. 
Bodega Catena Zapata is the king of Argentinean wine. At this tasting we're only tasting their best wines.
Catena Alta Chardonnay – Scores 90 – 94
The nose offers ripe white fruit aromas such as pears and peaches that are interwoven with delicate citrus and floral notes, such as Jasmine. The palate shows rich and concentrated ripe pear, apple and apricot flavors with a light note of minerality. The wine finishes long and complex with crisp, mineral acidity.
White Bones Chardonnay – Scores 92 – 96
A bright lemon yellow color in the glass. The nose shows an excellent mélange of citrus and white fruit notes with vanilla. The mouthfeel is rich and concentrated, showing ripe pear, apple and apricot flavors with salty notes. The finish shows bright, clean acidity and wonderful length.
White Stones Chardonnay – Scores 90 – 95
A pale lemon yellow color with gold highlights. The nose shows an excellent melange of delicated white flowers and white fruits aromas with pure minerality notes. The mouthfeel is elegant and fresh, showing jasmine, ripe white peach and pear flavors interwoven with mineral notes. The finish is bright, with clean acidity and wonderful length.
Catena Alta Cabernet – Scores 92 – 94
On the nose, it offers intense aromas of ripe raspberries, and cassis with notes of pepper and clove. On the palate, it is full-bodied and rich and displays layers of black currant and black raspberry with notes of cedar, tobacco and leather. This Cabernet Sauvignon is an elegant wine with silky tannins that provide structure and a long and persistent finish. Pair this Cabernet with red meats like steak or lamb, demi-glace sauces, or with Chateaubriand for an elegant and special dinner.
Nicolas Catena Zapata – Scores 95 – 98
An intense, deep purple color with bluish-black tones. On the nose, aromas of black fruits – blackberries, black cherries, black plums – predominate with subtle notes of vanilla and dark chocolate intermingled with savory hints of green olive and a stony minerality. On the palate, the wine is tremendously complex, unfolding layer upon layer of red currant, eucalyptus, and black pepper flavors . Black cherries and blackberries give way to cassis followed by a hint of saline minerality. The wine is remarkably concentrated with a firm tannic structure providing the backbone for the lush fruit. The finish is long, a foretoken of the long aging potential of this Argentine masterpiece. Let the Nicolás Catena Zapata open in a decanter while you grill a Bone-in Ribeye Steak to perfection.
Adrianna Malbec – Scores 96 – 97
Aromas of blackberries, violets, and vanilla give way to a powerful and deep wine with flavors of black and red fruits alongside of lavendar, wood and minerals. Remarkable concentration and finely-grained tannins stand with great acidity. Pairs well with beef tenderloin.
Argentino Malbec – Scores 93 – 97
The nose offers cassis, blueberries and violets, along with a strong suggestion of soil tones. It combines density and sweetness on the one hand, with gripping, lightly saline flavors of mocha, dark berries, spice, and minerals; a palate-staining finish dominated by sweet black and blue fruits. Pairs well with lamb chops, beef tenderloin, and goat cheese.
Nicasia Malbec – Scores 95 – 97
Ripe black-and-red currant, raspberries and an elegant touch of french oak are some of the aromas that we can appreciate from this special malbec from one of the Catena´s highest family vineyards. Very complex and expressive palate, with a creamy violet flavor witih ripe blueberries, cassis, vanilla and spicecake. Pairs well with roasted veal, shiitake mushrooms, and beef tenderloin.
Finally, Jorge Liloy will be on hand to tell you all you'd want to know about the Catena Zapata estate.
Date: Wednesday, December 3rd
Time: 5:30pm to 7:30pm
Location: The Wine Guild (606 Rivanna Ave.)
Posted on Mar 06, 2014 by .
If I had to choose one kind of wine that I rarely reach for, but am most often pleasantly surprised by, it would have to be Cru Beaujolais. We've done very little with it in the Guild; there's a great little Régnié that we have stocked on the shelves (and has enjoyed a sort of mini-cult status among those who try it!), but by and large, I just tend to overlook it. Perhaps it's just that there's so much generic Beaujolais AOC or villages-level stuff out there that evokes little beyond bright cherries; perhaps all of our brains have been trained, by the lore surrounding Nouveau, to not take it seriously. In any case, I feel like it's so neglected that it's almost criminal, especially when a rep brings around a quality bottle and I'm reminded of how brilliant it can be.
To wit: recently, I tried the Chateau de Jacques Moulin-à-Vent 2011, and was sincerelytaken aback. It had honestly been years since I tried a Bojo with this much power, structure, grace and soul, and I couldn't let it slip away like so many others.
My first thought was just how Burgundian it was. If there's one valid criticism of Gamay, it's that it often lacks the structure and composure that good Burgundy has in spades, and thus doesn't age well and is less serious. Of course, that goes for Nouveau, and much of the villages-level bottlings, but even a good deal of Crus tend to be drink-now wines with less stalwartness than many villages wines from the Cote d'Or. Well, if you're looking for Burgundian Gamay, look no further than Moulin-à-Vent. These are the most serious, structured wines of Beaujolais. Vines don't thrive as well here due to the manganese in the soil, which means lower yields…and thus, more concentration and character.
The Chateau de Jacques (a label under the Louis Jadot umbrella) is certainly one of the best examples of this serious style of Gamay that I've had. Almost like Pommard in its power, there are even elements here that you are more likely to find in Bandol than Burgundy: mint, sulfur/iron, dusty herbs and smoked meat. In terms of a core, it's made up primarily of that trademark red cherry/raspberry fruit, but even that's not nearly as playful as in your everyday Beaujolais. In terms of weight and texture, this again drinks like Pommard; unlike most Beaujolais, it's partially aged in oak, adding to the brooding "serious wine" aura and giving it even more structure. There's bright acid, but it's not sharp, and the finish is soft yet tannic – all of which leads me believe that this will be even better in 5 or 6 years.
Here's Wine Advocate's David Schildknecht on the matter…seems as though we're in agreement:
Reflecting (as explained in my introductory notes) the inclusion of all of Chateau des Jacques's fruit from Champs de Cour and Clos des Thorins as well as the usual selected lots from all of their other Clos holdings, a generic 2011 Moulin-a-Vent mingles ripe dark cherry, plum and cassis with marrow-rich savory suggestions of meat stock. Salt, stone, iodine, mocha and toasted nuts add intrigue to a sustained finish in this lovely, tenderly textured and relatively gentle offering that pales slightly only in comparison with the active impingement that characterizes this year's Chenas and Fleurie tasted immediately before. Incidentally, this was brought-up in one-third each in new barriques, used barriques and tank, in contrast with the nearly 100% new barrels in which the estate's single vineyard Moulin-a-Vents continue to be raised. An outstanding value, it should reward following at least through 2017 and quite possibly beyond. 91 points.

At retail, yes, an outstanding value. At Guild prices, though, it's under $20…true "no-brainer" territory. You want wine like this north of Chagny? Prepare to pay double! If you're inexperienced in how rewarding serious Beaujolais can be, this is your crash course…but if you already know, then you've probably clicked the order link by now.
Chateau de Jacques Moulin-à-Vent
Member Price: [Login to see member prices.]
Retail Price: ~$26.00
Posted on Feb 27, 2014 by .
As promised, here's the other bottle of Verget on closeout that I loved:
For me, Maison Verget has always meant Macon. Their awesome Chablis that I offered out last week might have been the first non-Maconnaise wine that I'd had from them, and great as it is, I still identify them as Maconnaise. We've sold plenty of their excellent Macon Villages, as well as the Montbrison and other miscellaneous bottlings (he produces something like 25 different bottlings in any given vintage), and this wine that I'm writing about today follows in their tradition: terroir-driven, but never shy or tight, and outpacing its price tag by a mile. Even at its normal, non-closeout rate, this wine is a deal, but with a few bucks shaved off, it's another "can't miss" wine to stock up on.
The Saint-Veran appellation is, as a friend put it the other day, what Pouilly Fuisse was 5 years ago. The latter used to be pretty affordable, and represented great deals all over the place. There might still be some good deals to be found, but so many of them have broken the $20 barrier…as can be expected whenever the international market takes serious notice of an AOC. Well, right next door, in the same shadow of the Roche de Solutre, is Saint-Veran, and it's producing Chardonnays of extraordinary value and quality.
The Verget Saint-Veran "Terroirs de Davaye" 2010 is as good a Saint-Veran as I've had, and is the perfect everyday, all-purpose Chard. Again, it is driven by terroir (stones, white flowers, earth) and buttressed by tremendous fruit – lychee, honeydew, nectarine. It simply has exquisite composure (classic, I'd even say) without ever taking itself too seriously; as I said, it's definitely an everyday wine that gives you much more than you paid for it. The weight on the palate is just enough to let you know that it's Chardonnay, and there's plenty of crisp acid even at four years old.
As with the Chablis, this is on closeout because the distributor has parted ways with Verget, so you will not see this wine at this price again (and it's still uncertain if or when Verget will be available at all, unfortunately). So, speak now, or forever hold your peace…
Verget Saint-Veran "Terroirs de Davaye"
Member Price: [Login to see member prices.]
Retail Price: $24.99
Oh, and just because it's extraordinarily beautiful (and relevant), here are a couple pics from the Roche de Solutre that we took on our trip a few years back (the first is of the village of Solutre-Pouilly and the Rock of Vergisson taken from the top of the rock; the second is of the rock itself). Drink it in!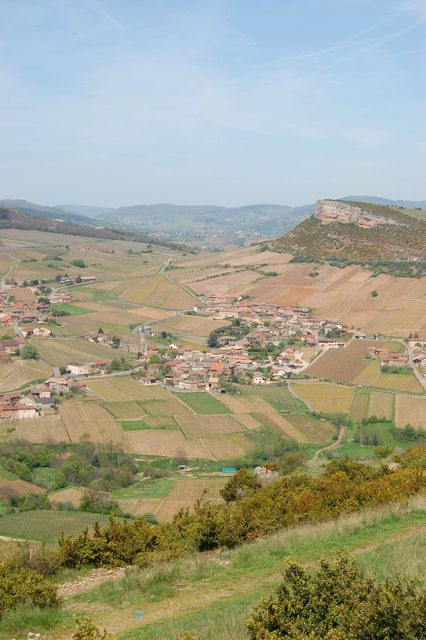 Posted on Feb 20, 2014 by .
I've remained silent, for years, because it's a sensitive subject. "Let it go", they said, "let them live their lives their own way". And so I backed off. I bit my tongue. I watched in silence as great opportunities were squandered. So it goes. 
Well, no longer can I sit idly by.  We need to talk. No, please, sit back down. It's because  we care. I've invited you all here today to talk about the conspicuous lack of sexy tall bottles in your cellars. Riesling. Pinot Gris. Pinot Blanc. Gewurtztraminer. And yes, perhaps even Muscat! We've stocked these wines in the past, and they sat on the shelves for an eternity. I've offered some of my all-time favorites, and few were interested. And so, for too long, I'd thrown in the towel. Reps would bring by fantastic "sweet" German Spatleses, and I would get goosebumps from them, but as much as I loved it, it was always the same rebuff: I can't sell it.
But no more. I'm bringing 'em back. I was inspired by an old favorite last week, the mineral-drenched Spatlese Riesling from Monchhof (a Bavarian powerhouse that makes no bad wine). This needs to be in everyone's glass, I said to my rep, and so it is my first entry in the "Tall Bottle Intervention" series. The 2012 Monchhof Riesling Spatlese 'Mosel Slate' is a perfect balance between the dry, bracing style, and the glycerine-rich Ausleses; I tasted this right after a bright "dry Spatlese" (the German designations are based on potential alcohol, not residual sugar…hence, "dry Spatlese"), and the richness on the palate was like sinking into a pre-warmed bed on a freezing January evening…gahhhhh. It's a plush, round, juicy wine up front, with plenty of wet stone on the nose (big surprise…it's called "Mosel Slate" and it's got a picture of a big old piece of slate on the label!) and a pristine lemon meringue coating.
However, the real genius of this wine, as with all wines of this type, is the balance. For every gram of residual sugar, there's enough soft citrus-esque acid on the other end of the seesaw to perform the perfect dance on your palate. On the periphery, there's ripe, mouthwatering fruit like summer peaches and melons, a touch of rich amondine nuttiness, and a complexity that seems to evolve by the minute as it sees more air. The Mosel Slate will also age well for another 5 years or maybe more, as it has plenty of acidity to keep everything structured.
Most of all, though, you need to drink this wine with food. Not just any food, but Thai food. There's a fantastic little hole in the wall down south of Lovingston called Thai Siam. For C-villians, it's a trek to be sure, and it's takeout only, but so worth it. Get the Drunken Noodles with chicken and the green curry with beef, and a few fresh spring rolls. Ask for medium heat if you're not scared of a little spice. Bring it home, sit down with a bottle of the Mosel Slate, and you will be transported into another dimension of food-wine pairing. The spiciness of the food would obliterate most wines, but the richness of the Riesling coats your palate and the acidity cleans it all up. The bright citrus notes in the wine play so will with the spices in the food, too…you can thank me later.
2012 Monchhof Riesling Spatlese 'Mosel Slate'
Member Price: [Login to see member prices.]
Retail Price: $29.99
Posted on Feb 19, 2014 by .
For a good while now, some of our favorite French Chardonnay has come from Maison Verget. Their Macon Villages Terres de Pierres was a staple on our shelves until it recently ran out, and we've featured other Maconnaise selections from them in the past, with great results. All around, their wines are of remarkable quality and enjoyability, especially for the money.
The bad news is that the estate has gotten increasingly difficult for the distributor to work with, and so they've decided to part ways. They may get picked up by another importer, but who knows when or if that will actually happen. Boooo!

The good news is that the distributor is closing out their remaining inventory.
Our rep, knowing how much we love Verget, dropped off a few samples the other day, and so I'm going to write up my two favorites this week. First off is the 2011 Chablis Terres de Pierres.  Now, granted, I'm used to Verget's Maconnaise bottlings, but this wine made me wonder what else I've been missing from their work to the north of Chagny. It would be considered a tremendous value at its normal price, but at this clearance price, it's the kind of thing you stock up on by the case. It's driven primarily by crushed seashells, wet stone and soft citrus, but it's got a touch more body than many sub-$20 village Chablis…with a silky, plush, welcoming texture on the palate. That body and texture are what make this wine so viscerally satisfying – while there are stones and lemons and herbs (thyme or maybe tarragon?) on the nose, the palate is just ripe enough, just soft enough, but with plenty of acidity to keep it balanced and lively.
It's a perfect counterpoint to the bracing, zippy Chablis that we so often see (and which have their place, of course), because it's just so open and giving and enjoyable even without food. I consider this a must-buy, not only because it's on clearance, not only because it's a perfectly realized sub-$15 bottle of Chardonnay, but also because who knows when we'll see it again?! I've always said that people need to drink more good Chablis, and this is an ideal place to start…
2011 Verget Chablis Terres de Pierres
Member Price: [Login to see member prices.]
Retail Price: $23.99
Posted on Feb 17, 2014 by .
For near as long as I've been drinking wine, I've been in love with Domaine la Bouissiere. Their splendid Gigondas was my introduction into the Southern Rhone Fan Club, and no other Gigondas has come close ever since. Talk about starting out on a high note! Unfortunately, that wine (and their special ' La Font de Tonin' cuvee) have consistently risen in price (the basic Gigondas is near $30 now I believe) – even still, they remain some of the best bottles of wine in the Southern Rhone.
A couple years ago, though, I got to try their everyday blend – Les Amis de la Bouissiere – and was thrilled to find that the heart and soul of their Gigondases (can you pluralize that? I just did!) were alive and well in a brilliant sub-$15 'throwaway' blend. Apparently, the Faravel brothers created this bottling as a way to "get rid" of their younger Merlot juice. Where some producers might just sell it off to cooperatives and the like, these guys have enough faith in even their younger fruit to put their label on it…and the juice, she don't lie. Now, I have no idea whether this is still an outlet for their young Merlot…my guess is that the wine ended up being so good, and so popular, that it's now a real focus in their lineup.
In any case, the 2012 that I drank a bottle of the other day is simply delicious. It's labeled as "Vin de France", with no further designation, simply because the Faravels wanted to use the Caladoc varietal (don't worry, I'd never heard of it either) in the blend. It's still mostly Merlot, with the rest Syrah, Caladoc and Grenache. It's got a very genuine brightness which draws me in at first sniff/sip – this isn't the kind of forced acidity and fresh fruit you get from tinkering in the winery, this is honest energy, without ever being nervous or jittery. There's a definite softness from the Merlot that makes this wine approachable and just weighty enough, while the Syrah and Grenache seem to provide the structure, depth and gruffness I expect from Southern Rhone…er, ahem, "Vin de France". I honestly have no idea what role the Caladoc plays here, but considering it's a Grenache-Malbec hybrid, you can fill in the blanks.
It's like drinking the offspring of their Gigondas, because the structure is always very up front and focused: soft acidity, a touch of tannic backbone, wrapped in velvety texture and a strong spicy/brambly energy. It's rare that great winemakers like this capture the essence of their greatest wines in their entry-level offerings, but as I said, this has the heart and soul of Bouissiere in it. At under $13, it's as good an everyday Rhone red as I've had, and I've had some damn good everyday Rhone reds. We all need wine like this by the case, at arms' reach.
Les Amis de la Bouissiere 2012
Member Price: [Login to see member prices.]
Retail Price: $15.99
Posted on Feb 06, 2014 by .
This is in the same vein (from the same distributor, in fact) as that crazy Mollydooker deal from a couple weeks ago…but while I know that some people are just generally not into big Aussie Shiraz, there's really something for everyone to love in the BV Tapestry. I have had some good and some not-so-good iterations of this wine, honestly; the bad ones seem muddled and lacking any kind of depth or delineation; the good ones are (as another member put it) "what Napa claret should be": well composed, with nice acid and complexity without being too heavy.
The 2009 Tapestry is the latter, of course, and while its normal price tag (upwards of $80 retail in VA) is overinflated in my opinion (WA's Galloni gave it 91 points, though, so that probably has something to do with it), when the distributor shaves more than half of the cost off the bottle, it's pretty hard to say no! Like with the Mollydooker, the distributor is apparently trying to move this stuff to make room for the new vintage – and, I'm sure, losing money in the process. So, I thought I'd give you all a heads up on this. As I said, those who have tried it (including myself) have been impressed with it and asked for more, so this is definitely not a case of a distributor trying to unload substandard wine; like with the Mollydooker, I think they just had priced it too high to begin with…and now, we benefit.
As of a couple days ago, there seems to be a healthy amount of it left, so you can order as much as you want. However, I don't know how long it'll last at this price (I imagine some of the shops in the area will buy it at this price and then mark it up more than normal, because it'll still be a better sticker price than normal). So, jump on it now, and we'll secure it for you this week!
2009 BV Reserve 'Tapestry'
Member Price: [Login to see member prices.]
Retail Price: $80+
Posted on Feb 05, 2014 by .
Whether you're a writer, collector, seller or consumer of wine, few things sting as much as when a beloved staple in your wine life goes kaput. Nothing is permanent, of course, but when you've been drinking a particular wine for long enough, it just doesn't seem fair for a winemaker to fold, or just retire, or otherwise decide that their livelihood is more important than your wine fix!
A few years back, this happened to a wine that I consider to be a shoe-in for the inaugural ballot of the Wine Guild Hall of Fame: the Puig-Parahy "Georges" Cotes de Roussillon. Apparently, the owner had a few properties around the world that he couldn't unload, and was facing bankruptcy because of it, and had to stop his winemaking operation. We were pretty upset, simply because it was one of the best inexpensive reds that we'd tasted. And we sold a ton of it to you all, too. It was a permanent staple on our shelves, and members kept coming back to the well for more. But, we moved on, and accepted the unfortunate demise of a great wine.
Fast forward to late last year: I got great news from our rep that the Georges had come back from the brink! Georges Puig apparently found some buyers for his other investments, and got his winemaking operation back up and running. I had to try the new vintage (2010)! So on our way out of town to visit my mother, we got the bottle; much to our pleasant surprise, she actually still had a bottle of the 2007 sitting in her collection. Oh, how perfect – we could try them side by side!
First, understand that these are very different wines at 3 years apart. The 2007 was the picture of aged Chinon (even though it's not Chinon, and there's no Cab Franc in there), with a wonderful interplay between feminine and masculine notes…ripe fruit, pencil shavings, perfume, spice, etc. But it had aged very well, and this gave me great hope for the 2010's longevity.
The 2010, though, is actually still a baby and has more electricity than I remember from the 2007 when I first had it a few years ago. It's a truly "loaded" wine, though, drinking better and better the longer I let it air out. Eucalyptus, ripe sour cherries, a faint smokiness, and complex delineation (which is a mark of a great wine in my book) are what do it for me. The wine is powerful, but never confusing or jumbled; the aforementioned electricity (combined with a firm but not-too-grippy tannic presence) tells me that this wine will (like the 2007 before it) only get better and better in the next few years.
And the best part: it's still super cheap. It's time to welcome back a Hall of Famer!
Some notes from WA's Schildnekt, too:
The Puig-Parahy 2010 Cotes du Roussillon Georges – about to be bottled when I tasted it – offers its usual exuberant, infectiously juicy, impeccably-clean, tart-edged fruit, reflecting a blend of Carignan, Grenache, and a smidgeon of Syrah, raised in tank. Blackberry and purple plum are tinged with brown spices, bittersweet herbs, and peat-like smokiness. Given the pricing of past vintages, we can expect that this 2010 rendition of "Georges" will once again offer outstanding value over the next several years. 89-90 Points.
2010 Puig-Parahy "Georges" Cotes de Roussillon
Member Price: [Login to see member prices.]
Retail Price: $15.00
Posted on Jan 30, 2014 by .
This wine is what I like to refer to as:  fantastic.  You can skip the rest and just order, or stay tuned for color commentary …
I opened and decanted this bottle just prior to putting a rack of lamb in the oven.  I tasted the wine and got the impression of a restrained, elegant gentleman from Margaux, with tremendous family history — taller than me, and better dressed – at a cocktail party.  He's quietly in command, accepting the onslaught of the crowd within the structure of his worldview and frankly overly-bushy eyebrows.  I cannot break through the small talk and superficial discussions – and yet sense that there is a tremendous depth I simply cannot plumb.  I will return.
My daughter is pounding out "Good King Wenceslas" for the 4th time as I stoke up the fire and finish my cocktail.  One day, she'll no doubt be able to play the piano with more than just her index fingers.
Quite a while later, I pull out the lamb to let it rest.  I pour a little more of the wine, taste, and realize the gentleman has had a few drinks himself.  He is still reserved, regal really, but is far more open and accessible.  Far more amiable if you will, and after less than an hour of air.
Giscours dates to the 1300s, with the 1855 classification in Bordeaux granting it 3rd Growth status.  Like the Grand Vin, this is 55% Cabernet Sauvignon, the balance being mainly Merlot.  The nose is restrained, but full of cassis fruit, with a little dark garden soil. Attractive density on the palate, with cassis, blackberry and Black-strap molasses playing the major roles.  The wood is seamlessly integrated, almost invisible actually, but makes an appearance in the slightly compressed mid-palate.  The wine finishes with good length and youthful tannins and acids – this requires a decanter and elegantly prepared red meat to shine fully, but in that setting, it is truly fantastic.  Highest recommendation at the price point and well-above frankly, for consumption now and over the next 5 years.
La Sirene de Giscours 2010 (Margeaux)
Member Price: [Login to see member prices.]
Retail Price: $40.00
Posted on Jan 29, 2014 by .
We get lots of requests for Port, especially this time of year. Like many, I go in "cycles" when it comes to stuff like Port and Sherry; some of it is just the time of year, and some of it is just what I have a hankerin' for. Right now, after tasting a few Ports, that's my hankerin'!  Now, both of these ports are non-vintage, and both of them have been offered out by the Guild in the past…and they remain favorites of ours. Having retasted them both recently, I can say that the fire has been rekindled! Here are my notes from years past:
The first is the Noval Black (NV) from the world-renowned Porto producer Quinta do Noval…and it's a beautiful ruby port with body, power and elegance, all for around $15 (ha!). As a ruby, it naturally has less of the resinous, dried-fruit quality, and much more vibrant, rich, red-fruit character. It's not sappy or oxidative, and unlike the earthy dank-cellar-esque quality of the aforementioned 10-yr Tawny, it has a much-welcomed vibrancy and lightness to it. It's not all bright, though—there's definitely a dark, brooding, syrupy character (which defines it as Port, really), but without the overly-raisiny character… and with all the deep-red-blue notes, it's really a different monster. The acidity is soft but actually refreshing, and on the nose there is palpable energy (I suppose this is for the club scene, right?) buttressed by eucalyptus, garrigue, and graphite. All of this is contained within what is perhaps the most singularly silky texture a wine could ever contain. The tannins are just present enough to hold it together, and the acid just braces the fringes—inside, it's like liquid silk: so soft, so full, so viscous and coating. 
Look, like I said, I was skeptical because of various preconceptions, but I'm now a believer. I've been drinking this stuff here and there for the past couple weeks, and every time I pour it, it seems like a new wine to me. It's extraordinarily complex (especially for a marketing creation), and while it does have that easily-accessible quality that it was going for, it really is a perfect drink-now ruby Port. The packaging is sleek, classy, and not at all flashy (it even comes in a gift box for those looking for last-minute Christmas gifts). It's the perfect complement to the other, more raisiny Port discussed above, and for everyone asking for drinkable Port this holiday season, you need look no further!
Quinta do Noval "Noval Black" (NV)
Member Price: [Login to see member prices.]
Retail Price: $22.00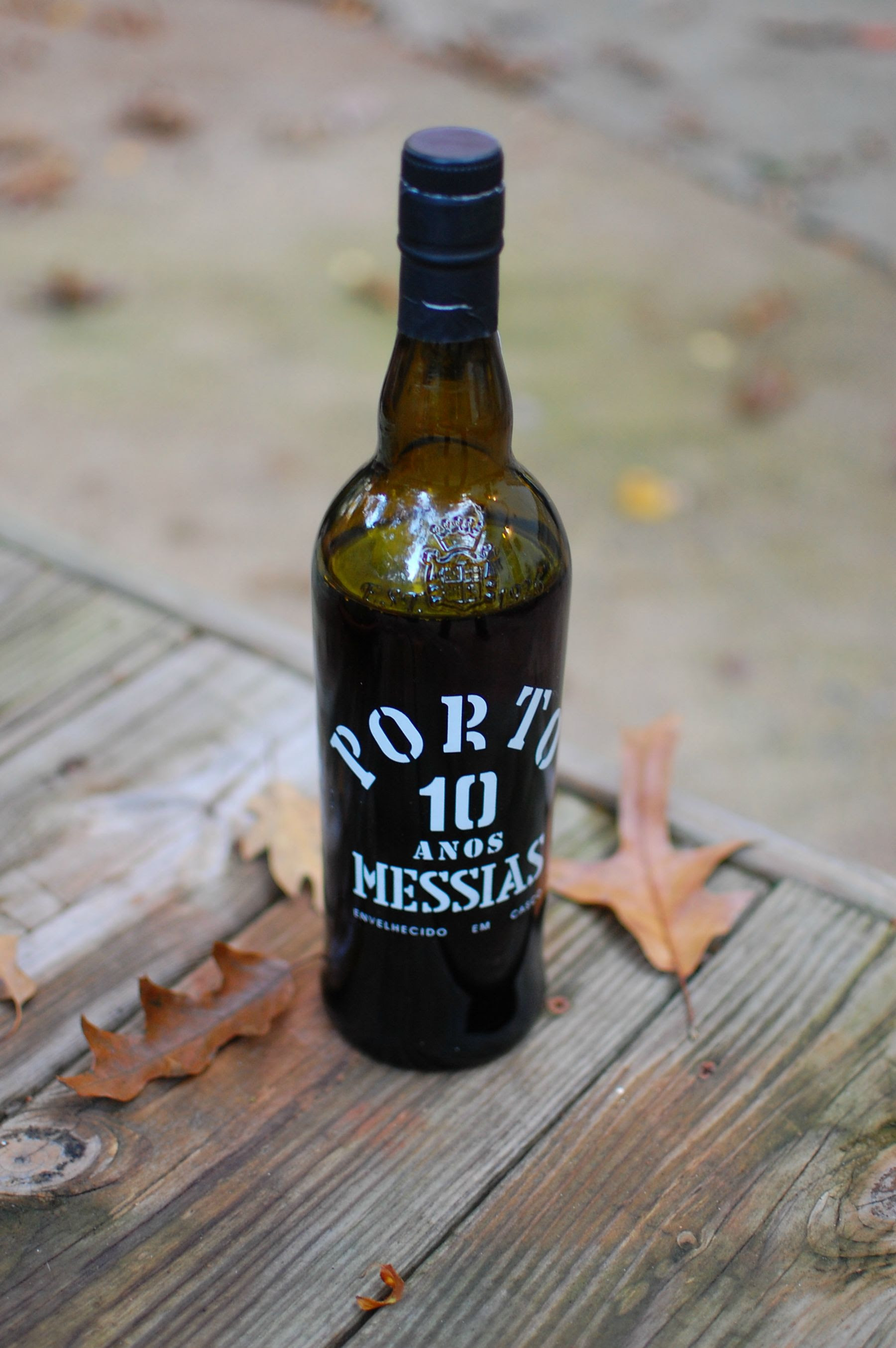 The second bottle is a 10 year old (10 years in the barrel) tawny from a new (to the states), small producer, Messias. Dionysos' Kevin Schultz personally selected this on a recent trip to Portugal, and I can't say enough about it. It really is the whole package. And look, I love good vintage ruby port, even late-bottled-vintage stuff, but for my money, right now, without worrying about aging or spending a bunch of money, good tawny is where it's at. It's not sherry, but it's in that direction, and that's what I love—the time in the barrel really brings another class of elements to the table. A brooding, raisiny nose is buttressed by soft aromas of leather and tar, and salty Marcona almonds, and pecans dressed with caramel. The palate starts with sweet cookies, caramel and a touch of smoky charcoal, but it's never actually that sweet. The alcohol is very well-integrated, as is the oak; the finish is dry, spicy and lingering. "Truly awesome" is how my notes finish out. It is. 
But it doesn't stop there (but wait, there's more!) Unlike so many great wines of late, this wine has a classic, romantic pre-Prohibition package that just says "porto!" to me (literally and figuratively). Simple, stenciled white lettering, no frills (see below), and the bottle actually comes in a very sleek, attractive box—making this the perfect gift idea. I'd be thrilled to get this under the tree, myself. Okay, so, remember way back in the subject line, where I used the word "deal"? I think I also said something about it being "the best ever". I meant it. We're talking under $19! I think I've said enough…this is the only tawny you need. 
Messias 10 Year Tawny Porto
Member Price: [Login to see member prices.]
Retail Price: $26.00
Posted on Dec 26, 2013 by .
It's been quite a long time since we broke out the DEFCON label. For the unaccustomed, DEFCON is the designation that we reserve for only the very best deals – those wines that not only are amazing in their own rite, but also have an extraordinary "QPR" (Quality:Price Ratio). In the Guild's 6 years of operation, there have been only a small handful of wines deserving of the honor, and today, we've got another.
One thing you should know here up front: this wine was recommended to me by a wine repwho doesn't rep this wine. As you can imagine, there's a strong (and eminently understandable) propensity for bias towards ones own portfolio in the wholesale biz; as such, it's pretty rare (once you branch out from the "big names" that have near-universal appeal) for a wine rep to call me and tell me to try another company's product. So you can see why, right off the bat, I was intrigued.
Now, as for this wine, while I feel like screaming "DEFCONNNNN!" might should suffice, I'll tell you a li'l bit about her. Nebbiolo: the famous Piedmontese varietal that makes up such world-class wines as Barolo and Barbaresco. Unfortunately, those world-class wines often come with world-class price tags. If you can afford to drink great Barolo every night, well, color me jealous, but for the rest of us, most Barolos and Barbarescos worth mentioning aren't everyday wines. Which is why today's DEFCON wine is so welcome in my wine rack…
When I first stuck my nose into a glass of the Renato Ratti Ochetti Nebbiolo, it screamed Barolo! to me. How is this stuff under $20? It defies all logic and reason. Pietro Ratti (Renato's son) is a well-known and regarded fixture in Roero, and makes some truly world-class Barolos. The estate has been producing wine, in fact, since the 15th century – by the monks at the Abbey of Annunziata (the estate's home) originally. Renato took over in the 60s, modernized some winemaking techniques (while respecting the traditions that matter), and set the estate on a course for greatness. As the Wine Advocate puts it, "you can always count on Pietro Ratti for a fine bottle of wine. He is one of the most consistent and bankable producers in La Morra especially for those who enjoy the softer and more sensual side of Barolo." If based on nothing more than this Nebbiolo alone, I couldn't agree more.
While I hesitate to throw around "baby" monikers (i.e. "baby-Barolo") too often, I would not be surprised or disappointed to pay over $30 for this wine as a Barolo. Up front, there's power and expressivity in spades; it leaps out of the glass at you, without hesitation or a need to "open up". Lots of ripe red and black fruit, wisps of herbs, chocolate, tobacco and pencil lead surround a very classic, earthy core; meanwhile, the palate is an incredible concentration of flavors and depth, giving you more than you could want while never being muddy or jumbled. I suppose that's got much to do with the soft-but-well-placed acidity and tannins that buttress the rest of the wine and provide impeccable balance. It may not have the brusqueness, the massive tannins, or the brute force that many of the "in dire need of 10 years in your cellar just to be approachable" Barolos and Barbarescos do, but that's to its credit: you can lay your Barolos down and forget about them, and drink a few cases of this stuff in the meantime. It's drinking that well now, and might develop even more in the next 3-5 years, but you don't need to age it.
I can confidently say that the Ochetti is one of our great finds of the year: a tour de force in the sub-$20 wine market, giving you so much for so little, and positively exuding what Will calls "craveability". Also, DEFCON, baby!
Ready, set, GO!
2011 Renato Ratti Ochetti Nebbiolo
Member Price: [Login to see member prices.]
Retail Price: ~$24.00
Posted on Dec 04, 2013 by .
Three rivers actually flow through Bordeaux – the smaller Dordogne and Garonne come together like a long, snaking Y to form the much larger Gironde, which defines the famed Left and Right banks, homes of a large number of the world's most expensive and fabulous wines.
Today we offer you two Bordeaux Blanc – one over-achiever from a lesser known region, one under-priced rising star from a more famed neighborhood:
Interestingly, the land above the convergence and between the two rivers is home to a vast production of largely anonymous producers who label their wines simplyBordeaux.  Entre-Deux-Mers is the appellation's name — literally "between two seas" — and is home to a vast expanse of rolling hills and vines and beautiful chateau from which families have been producing producing wine for generations.  Chateau de Fontenille is just such a house, producing wine since the 13th century.  New owners in 1989 replanted the vineyards and renovated the cellars — since then, Fontenille has been producing noteworthy wines at eyebrow-raising prices.  Today's Entre-Deux-Mers Grand Bordeaux Blanc 2012 shows very pure, luscious, white peach and Meyer lemon with enough acidity to keep it honest (and interesting) for just $10+.   This wine is great as an aperitif or served with 'leaner' preparations of seafood.
Chateau Fontenille Entre-Deux-Mers Blanc 2012
Member Price: [Login to see member prices.]
Retail Price: $~14
Across the Garonne, we have the appellation of Pessac-Leognan – home of Chateau Haut-Brion, La Mission Haut-Brion, Pape Clement, Smith Haut Lafitte, and on and on … — but also home to quite a few houses producing great wines at dramatically lower prices.  Today's selection:  Chateau Bois-Martin BordeauxBlanc – a wine we regard as one of the top values in white Bordeaux every year.  Clean, cold wet stone was my first impression of the aroma (very promising, and logical considering the gravelly terroir of Pessac-Leognan).  Almost immediately, there is intense lemon-lime citrus, with almost medicinal intensity.  The palate reflects that same tightly-wound mineral and citrus intensity, combined with a little white peach.  Mouth-watering acidity and white-pepper spice through the finish really require the foil of rich seafood to show full-well.  I served it to my bride with seared scallops and sautéed mushrooms on Sunday evening and that worked very well.  I would like to drink this a year from now – outdoors, with plenty of raw oysters and the smell of dried leaves and wood-smoke in the air.
Chateau Bois-Martin Pessac-Leognan Blanc 2011
Member Price: [Login to see member prices.]
Retail Price: $~25
Posted on Nov 27, 2013 by Will Richey.
Well, Thanksgiving is literally right around the corner. Christmas and New Years will then follow. It all happens so fast, and as cliche as it may be it is truly my favorite time of year.
This is the time for feasting and wine. This is the time for Champagne!!!
Of course many of us try to make the argument that any time is the time for Champagne. It's true, Champagne should not be saved for only special occasions, it is fun, it is delicious, it is refreshing and it can turn around a crappy day in a heart beat.
Every year I try to find a handful of affordable Champagnes to offer out to the group for those who believe this and like to have a couple good ones in their artillery to complete a scene or make an ordinary evening special.
I have been working hard and have found a few small grower Champagnes with tons of individuality and style, unarguably forward and distinct flavor and rich finesse. Also, and importantly, at a price point for opening with some regularity.
Today I want to talk about the Andre Clouet, Brut a Bouzy. Grand Reserve MV (multi vintage). This Champagne is made from 100% Pinot Noir in one of my favorite Grand Cru villages Bouzy. This is a return to the full biscuity-style Champagnes that always make me think of the Belle Epoch. They are glorious wines, Baroque in both flavor and mouthfeel.
The Clouet vineyards are handled organically. Much of the production is sold off to Big House Champagnes but Andre Clouet saves the best fruit for his own bottling. The wine spends 6 years on the lees giving it that full rich mouth feel and weighty presence.
This is an unbelievable Champagne that will stand up to any meal. It would make for a tremendous start to Thanksgiving, and what you hide from your family you can enjoy through the feast by yourself.
I highly recommend this Champagne. Even non Champagne drinkers will stand in awe of its utter deliciousness and what has become my favorite virtue in wine and food,craveability!
Andre Clouet 'Brut a Bouzy' Grand Reserve Champagne MV
Member Price: [Login to see member prices.]
Retail Price: ~$50.00
Buy Now!
Posted on Nov 27, 2013 by .
Before you know it, The Feast will be upon us. And you do not want to be caught with your pants down when it comes to what to drink with your Thanksgiving meal. So, I've got for you a couple selections (one red, one white) that are eminently versatile and adaptive for any variation of dishes, and (of course) outperform their price point by a mile:
2012 Avantis Estate White: You might remember this little sub-$10 gem from earlier this year – it's one of those wines that seems to get lost in the shuffle of other flashier wines (perhaps the price causes people to not take it as seriously as they should?), but every time I go back and try it, I am yet again astounded at how good it is, how interesting it is, how expressive it is. It's Viognier (which can be great or awful), it's Greek (which can be great or awful), and it's in a blue bottle (which can be great or awful). This is great wine. It's got a spicy herbal punch up front like Muscat or Gewurtz; that leads to juicy fruit like lychee and passionfruit. It's got a touch of richness on the palate, but there's plenty of acidity to balance everything out nicely and give you a tremendously refreshing palate experience. A tremendous value anytime of the year, but it begs for the panoply of flavors that a holiday meal offers.
2012 Avantis Estate White
Member Price: [Login to see member prices.]
Retail Price: $12.00
2012 Domaine Vincent Dureuil-Janthial Bourgogne Passetoutgrain [typ. retail: ~$18.50; Grand Cru: $13.56; Premier Cru: $14.18]: That's a mouthful, to be sure, but so is the wine. I love this producer…their wines (while often a little pricier) have a real stoicism and attention to traditional details and styles that I really identify with (duh). I'd never had their Passetoutgrain before last week, but I was an instant fan (especially at this price point). Passetoutgrain is a relatively rare oddity in Burgundy – it's an "AOC" wine, but the AOC covers all of Burgundy, and instead of the typical single-varietal wines that are mandated in most of the region, Passetoutgrain is a blend, typically of Pinot Noir and Gamay (with other stuff like Chard, Pinot Blanc and Pinot Gris occasionally thrown in there). The Gamay, in this case, adds a bright juicy fruit character and a bit of brambly woodsy depth that is often lost of Pinot-only Bourgogne. It's also very expressive and even a bit masculine (which is not altogether common for these cuvees), and I chalk that up to the producer. It's been years, honestly, since a rep brought me any Passetoutgrains, and I couldn't be happier to find this stuff. Both Will and I were all over it, and with a price under $15, I think it's one of the steals of the season. Stock up, because you'll want more as soon as you try it. I know I do.
2012 Domaine Vincent Dureuil-Janthial Bourgogne Passetoutgrain
Member Price: [Login to see member prices.]
Retail Price: $18.50