Open to the public and just $5. At this weeks' tasting and pop-up restaurant you'll taste seven wines from Mas Daumas Gassac, including their flagship wine considered "one of the ten best wines in the world" by Michael Broadbent. We'll also be offering the following delicious food from Kitchen Catering and Events and cheese plates by Flora Artisanal Cheese. So, come hungry, bring friends and make a night of it. We love seeing new faces. Now, here are the details on the food and wine.
FOOD:
Beef Stew with Red Wine – $16
Stuffed Pork Loin Cassoulet – $16
Oyster Gratin with Spinach and Mushrooms – $16
WINES:
Mas de Daumas Gassac Rosé Frizant – $22.39
A fresh naturally sparkling wine made from a single fermentation and no dosage, the Rose Frizant has fine bubbles and a delicious fruity finish. A great apertif and also goes well with desserts. 70% Cabernet Sauvignon, 30% Mourvèdre, Pinot noir, Sauvignon, Petit Manseng and Muscat.)
2013 Moulin de Gassac Guilhem Blanc – $9.59
A Grenache Blanc blend, this shows a delicate, pretty nose of acacia and pear and a mid-weight, harmonious palate of lemon, dill and green olive. An outstanding wine for this price. This is a buy by the case white for daily drinking or parties.
2014 Pont de Gassac Blanc – $12.80
A rich, complex blend of Chardonnay, Sauvignon Blanc and Grenache Blanc. Semi-golden, melony colour with a nose of white flowers. Attractive palate of ripe pineapple but very well balanced by refreshing acidity. Best served not too cold to get the best out of the aromas and flavours.
2013 Moulin de Gassac Guilhem Rouge – $9.59
Quite a rustic offering, with a real 'goût de terroir' (taste of the soil), this distinctive Syrah-blend has a fragrant, earthy nose of black fruit and herbs, and a fresh, moderately-tannic palate of baked blackberry pie, nutmeg and cedar. Another super value at under $10.
2014 Moulin de Gassac Pinot Noir – $12.80
Elegant light red with brick tint. Complex and delicate nose. Candied cherry, light roasted hints and mocha with mouthwatering abundant fruit. A beautiful freshness and soft tannins made it a balanced and fine Pinot. Fruit forward finish with soft tannins.
2014 Pont de Gassac Guibert Rouge – $12.80
Rich, complex blend of Cabernet Sauvignon, Merlot and Syrah. Dark inky ruby showing a big nose of ripe plum, rose petal and creamy toffee with a note of aged cheese. The palate is quite complex. Tart red fruit, black-plum skin, strong tannin and an earthy ripe fruit finish. Mouthfilling, rounded fruit is the hallmark of the Pont de Gassac rouge.
2013 Mas de Daumas Gassac Rouge – $45.59
"One of the 10 best wines in the world" (Michael Broadbent), "Exceptional" (Robert Parker). Open your bottle three to four hours beforehand. Better still, decant the wine. Drink young (within 3 years) to enjoy the full fruity aromas. Otherwise drink it after 5 years, or lay it down for 15-20 long years to get the full benefit of a truly great wine'. 72% Cabernet Sauvignon, 5.4% Merlot, 5.3% Tannat, 3.8% Cabernet Franc, 2.5% Malbec, 2% Pinot Noir, 9%.
We're located in the Kitchen Catering building at 606 Rivanna Ave. Just off Harris St. We get started at 5:30pm and will go until your so full of bliss that your life is forever altered. Or, we run out of wine and food.
We'll be doing this on Wednesday the 23rd (members only) and Thursday the 24th (open to the public and just $5)
Time: 5:30pm until 8:30ish
Location: 606 Rivanna Ave. Just off Harris St.
Park in any of the nearby business lots after 6:00pm.
Come hungry, bring friends and make a night of it. We love seeing new faces.
Posted on Aug 08, 2015 by Wine Guild.
We're back from our summer vacations and are ready to whoop another  wine tasting and pop-up restaurant on you. The theme will be  "A Summer Night in the French Countryside". You'll  taste six great French country wines that are perfect for summer.
French Herb and Lemon Roasted Chicken – $13
Served with French Lentils
Grilled Sirloin Steak with French Herb Butter – $16
Served with a local Zucchini Gratin
French Picnic Sandwich – "Pan Bagnat" – $12
Ham and cheese with roasted red peppers and olives. Served with a side salad.
Nadjeeb from Flora Artisanal Cheese will also be here offering Cheese Plates for $12.
THE WINES:
We'll also be tasting six of our favorite French summer wines. These wines can also be purchased by the bottle to have with your your meal.
​2009 ​Rolet Cremant du Jura ​- $17.60​
Seriously good Champagne-style fizz from the hills of France's Jura region.​ A blend of about half Chardonnay and equal parts ​​Savagnin and Poulsard, this spends a whopping 40 months on the lees after the secondary fermentation, and the extra time shows itself in the super-fine bubbles, creamy texture, and seriously complex aromas and flavors. Sweet stone fruit, buttered toast, apricot, lemon, honeysuckle, apple and more weave in and out of the generous aromas and flavors. Finishes clean and fresh with a lightly stony character and lingering notes of fruit and toast.​
​​2010 Château du Coing Muscadet "Tradition​ ​Millénaire​"​ – $9.60
A fresh nose of stone fruits, flowers, & minerals; while a lively acidity supports rich flavors and a dry, minerally finish.​ ​An impressively versatile food wine that will pair well with any​t​hing from fruit salad to oysters to funky cheese, while still managing to be interesting enough to drink on its own.
​2012 ​Bergerie La Croix Picot Savennieres​ – $19.99​
Opulent and intense aroma​s​. Beautiful harmony with a floral sweetness (honeysuckle), mature fruit (quince) and fresh citrus fruit. Ample and generous on the mouth. Beautiful aromatic palette, of fresh fruits (almonds). Well balanced, bringing together smoothness and subtle freshness.
​2013 ​La Bastide Saint Dominique Cotes du Rhone Les Argiles Rouges Vieilles Vignes​ – $13.60​
It can be our little secret: this fruit is from the vaunted Coudelet vineyard (of Beaucastel fame), though you won't be paying anywhere near the Beau​castel​ price. An enthralling aromatic display features black plum, cherry liqueur, pine forest, freshly cracked pepper and a whiff of butcher shop. On the palate, notes of wild raspberry, light game, blue plum, black tea, and light game are followed by a smooth, lingering finish.
​2013 ​​​Pierre Gaillard St Joseph​ – $20.79​
​Classic and chiseled, with loads of black pepper on the nose and palate. Intense flavors and a persistent grip; suggestions of huckleberry and licorice show a juicy depth and edge. A very strong wine in terms of concentration and sheer material.Powerful black fruit character is given elegance by a lovely perfume of violets and a streak of minerality that comes from the granite soil.
​​2013 ​Domaine Berthelemot Pommard ​"Les ​Noizons​"​ – $36.00
Grapes from the adjoining plots of Les Noizons and Les Petits Noizons are vinified separately and blended to produce this beautifully perfumed Pinot Noir with aromas of sweet red berries, subtle spice and firm yet rounded tannins. There is a muscularity here that is typical of Pommard, yet it remains graceful and precise. This deserves a place in our cellar, as it will improve for years to come.
Dates:
Tues, August 11th (Members only their guests)
Wed, August 12th (Open to the public and just $5)
Time: 5:30pm until 8:30ish
Place: 606 Rivanna Ave (just off Harris St.)
Come hungry, bring friends and make a night of it.
Posted on Aug 04, 2015 by Wine Guild.
Did you know that we offer local delivery for only $10? That's right! Get all your wine delivered to your home or business for one flat rate of $10. We will deliver to you, between 3pm and 6pm, Monday through Friday. Just let us know where you want it, and we'll do the rest.
Just think of all that time you'd save, and how much MORE wine you could order if you didn't have to haul it all home yourself! Let us help you out. Seriously, that's what we're here for – "More people drinking better wine, more often"
Posted on Jul 23, 2015 by Wine Guild.
If you've been paying attention to our Facebook page, you've likely seen some of our posts from this venture to Burgundy. We're lucky enough to simply be here, basking in the amazing landscape, architecture, culture, cuisine, and wine; the opportunity to visit a few of our favorite producers is the fois gras icing on this limestone-flavored cake.
While it's still vivid in my mind, I thought I'd send you all something tonight (we're six hours ahead of you) about our visit to Chablistoday…because it was eye-opening for us all. After an excellent seafood-centric lunch in the town center (paired with some great 1er Cru Chablis, because what else?), we visited a Guild favorite, Domaine Jean-Marc Brocard. The Guild has long been a fan and supporter of Brocard's wine, and some of you may even still have a bottle or two laying around (if you had the discipline that I didn't). What we knew was that these are some of the best wines in all of Chablis, but what didn't we know…well, where to start?
Jean-Marc started with virtually nothing in the 1970s. Chablis was still not fully recovered from its destruction in the second world war, yet he saw something here, he felt the potential; so he started small with a few rows and a few wise mentors, built his way up, and eventually was instrumental in helping the entire Chablis region recapture its rightful place as one of the most esteemed winegrowing regions on the planet. Today, the Domaine is one of the top five largest producers in Chablis; yet of those five, Brocard is the only one that remains an independent family business.
The estate is, at first glance, a modern operation. Larger-scale (by Chablis standards), entirely surrounded by vine rows, and well-outfitted; down the hill, an impressively large production winery with "green" roofs and little forklifts scurrying about. But you turn around, and there's the Chapel of Sainte Claire.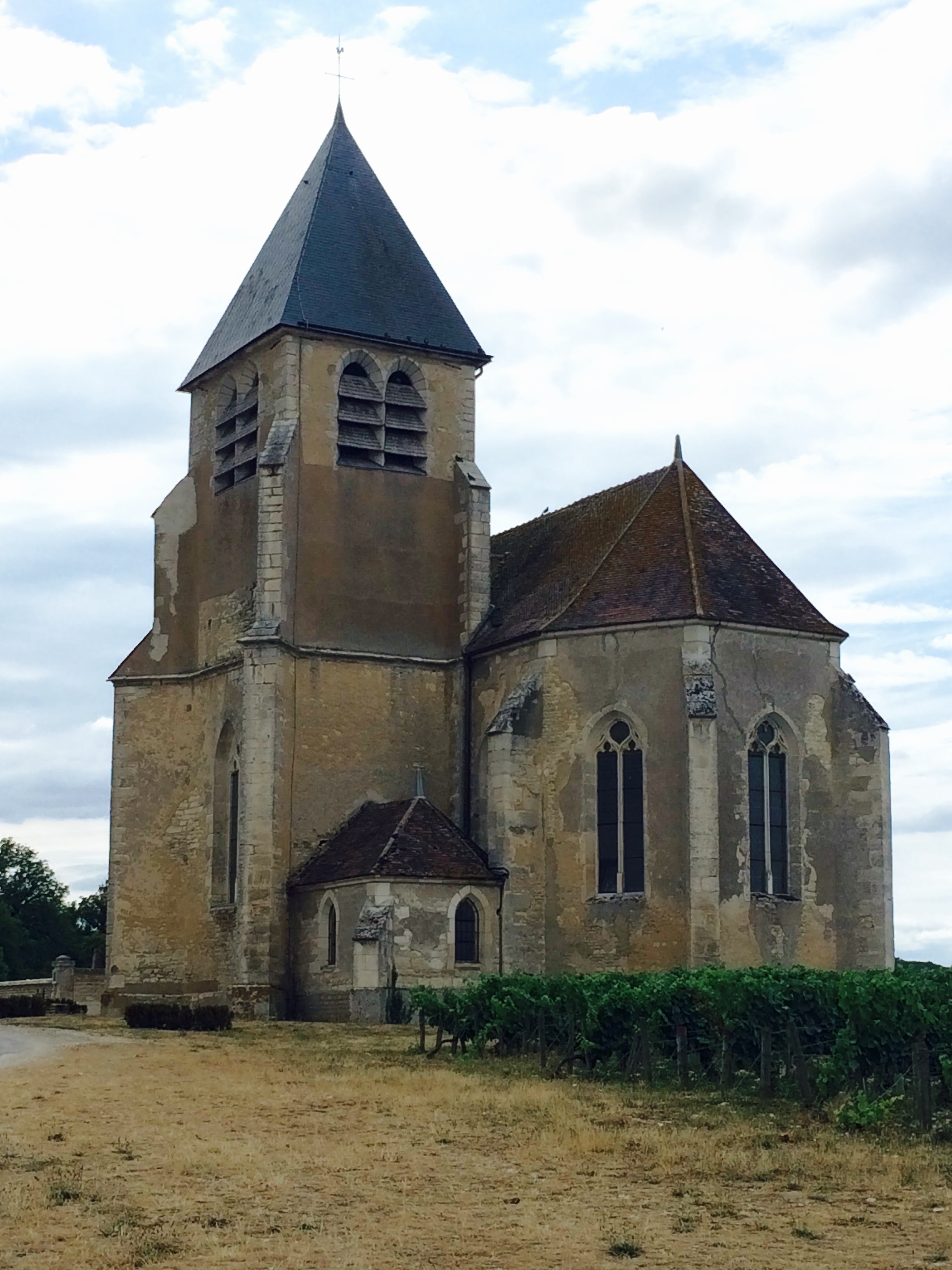 Surrounded by Chardonnay, this is the old and the new. Such as it is with the wine.
Where Jean-Marc helped restore the Chablis region, his son Julien has brought a "modern" bent to the operation, pushing more and more of their large stable of vineyard sites towards organic and biodynamic wine creation. This is difficult, and it doesn't happen overnight, but it inarguably brings a realness to the wines; currently, the majority of their vineyards are certified organic, with a push on the rest. Meanwhile, a focus on the vine and the fruit and the earth, rather than manipulation inside the winery, results in some of the most pure, unveiled, vivid displays of the effect of terroir that you'll find.
Between three producers, we probably tasted around 35 wines today, from Petit Chablis all the way up to the various Grand Cru sites, and it was a master class in how the blank slate of Chardonnay can amplify the soil, the vintage, the microclimate; sometimes like a bullhorn, sometimes like a whisper. One thing was crystal clear, though: terroir matters. The soil, the sun, the breeze, the water, the temperature, it all results in vastly different wines; one of the starkest (and most intriguing) contrasts was between Brocard's 2014 Sainte Claire Chablis and their 2014 Sainte Claire Vielles Vignes Chablis. Both are from essentially the same sites. Both are from the same vintage, and the same producer, and are vinified in the exact same way. Yet, the Vielles Vignes has a richer, more serious saline/seashell character. Vielles Vignes means "Old Vines", which in turn means that their roots go deeper. Here's the difference a few feet can make in the soil under Chablis:

Brocard has left this wall in their cellars open, to illustrate the geology of Chablis in very real terms. On top, limestone, in layers. Beneath, Jurassic Kimmeridgian (calcareous clay replete with seashells, as this was once all ocean). The deeper they go, the more these vines work, and the more elemental characteristics they pick up along the way. It's not only fascinating, it's the backbone of great wine…and Brocard's focus on real winegrowing, on fruit and vines and earth, rather than oak and chemical manipulation, bring this all to bear in a rather astounding manner.
These are wines of grace, purity, power and elegance. This is Chablis.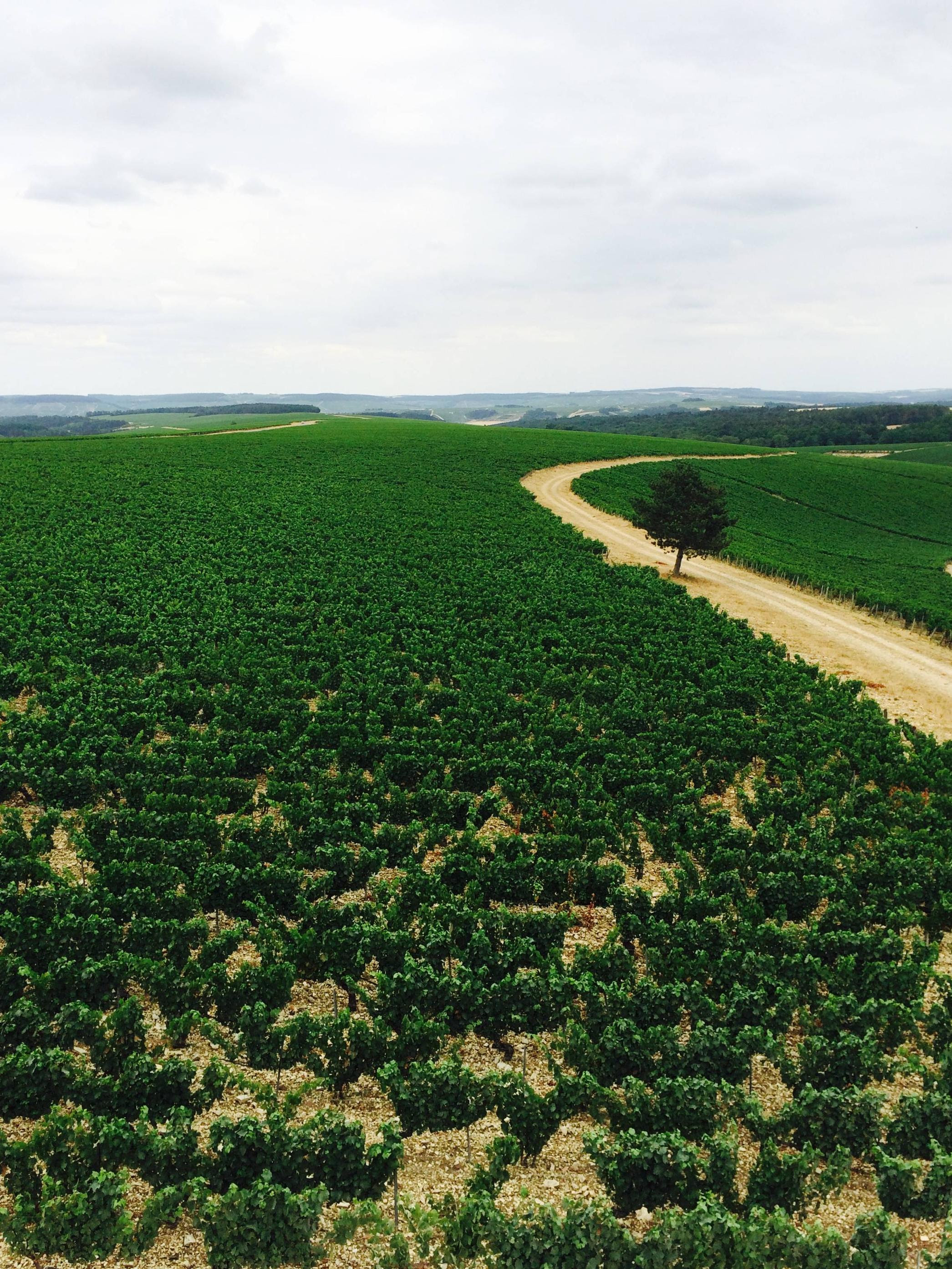 Looking down at Brocard's sizeable vineyards
We have a whole pile of notes, but there are a few that deserve your undivided attention. If you want more info, there are many Premier Cru and even some Grand Cru wines available from Brocard; these are merely a starting point into the rabbit hole of some of the greatest Chard on earth:
Domaine Jean-Marc Brocard Sainte Claire

Chablis

2014 [Members: $18.60  ||  Non-members: $23.25]: This has long been a staple of the Guild, and 2014 is shaping up to be an excellent vintage. The wine, on the whole, is bright and electric, full of energy (it's still young, yet); there are notes of smoky flint and toasty crackers mingling amongst juicy, plump nectarine and lemon. Beyond, there are hints of salinity and stone, with tart lychee-like bursts all over the place. The mouthfeel is pleasantly weighty, but always ephemeral and wispy at the end, leaving you wondering and thinking…the crisp purity of this wine is striking, and is thus a perfect illustration of the estate's philosophy. 
Domaine Jean-Marc Brocard Sainte Claire

Chablis

Vielles Vignes 2014 [Members: $24.00  ||  Non-members: $30.00]: Take the above wine, add some weight, seriousness, flint and seashells and you have the VV. They are notfundamentally different, but the devil is always in the details. Shelling out a few extra bucks for the VV is absolutely worth it, but I suggest you get both and do a side-by-side tasting of your own. This takes it to another level, with more pronounced herbs, flowers and earth, yet it is again a very vivid, pure wine. 
Domaine Jean-Marc Brocard Premier Cru Fourchaume

Chablis

2013 [Members: $37.20  ||  Non-members: $46.50]:This is a beautifully complete wine, and the obvious jump in price corresponds to a tremendous feeling of accomplishment that you can feel surrounding it. This is an incredible example of the difference terroir can make, with fuller weight, bigger fruit (but never too big), more pronounced saline and marine elements, and more spicy green apple and flint. 2013 was a rather difficult vintage due to hail, but as in many inconsistent vintages, there were winners and losers – this wine was an obvious winner. It is proof that what they are doing with these vineyard delineations matters, and as a testament to both honest winegrowing and the consequences of location, it deserves a place at your table.

And with that, Bonsoir!
Please CLICK HERE to place your order. 
Posted on May 25, 2015 by Wine Guild.
Open to the public and just $5. Grab some friends and make an evening of it.
Join us this Thursday, May 28th, for "A Night In Bordeaux, France". You'll taste 6 wines, including some older vintages from Bordeaux. Plus, we'll have great food by Kitchen Catering and Events and Flora Artisanal Cheese.
MENU:
Steak Bordelaise – $18
Cooked Medium Rare with Garlic Horseradish Mashed Potatoes, Haricots Verts, Bordelaise Sauce
Moule Mariniere – $16
Mussels with Frittes

Vegetable Torte – $13
with Greens and Bread
Cheese Plate – $12
ABOUT THE WINES:
2014 Château Haut-La Péreyre Bordeau Blanc – $13.79
The Haut-La Péreyre strikes a harmonious balance between Sauvignon Blanc's herbaceous passionfruit, and Semillon's soft apple and white flower notes. The lively acidity makes for a refreshing experience, but it's never too tart or bracing. There's just a touch of weight on the palate too, which helps to knock this up a notch from your everyday summer sipper.
2011 Château Mondesir – $13.23
The 2005 was one of the most popular wines in Guild history and the 2011 remains a stellar value. 100% Merlot, with a structure that only the Bordelaise can coax from that grape. Wet gravel, ripe raspberries, and leathery cellar aromas, while the palate has a lightness and structure that makes this a great spring/summer red. This wine can age too. As evidenced by back vintages still in my cellar.
2010 Haut Mondesir – $23.00
The Haut Mondesir is a big step up from the Château Mondesir in terms of structure, seriousness, and "umph", with raspberries, tar, coffee, pipe tobacco, and vanilla all swirling around your glass. The presence on the palate is weighty and substantial, but also buoyed by cherry-filled tartness. Far outperforming its price tag, the pliable tannins and firm acidity (as well as our personal experiences with past vintages) hint at another 10-15 years of continued improvement in the cellar.
2009 Château Larose-Trintaudon – $20.90
"A very refined, classic bouquet with sous-bois, tobacco and broody dark fruits. The delineation is terrific. The palate is medium-bodied with very fine tannins, great tension with crisp black, mineral-laden fruits on the finish. Bon vin!" 91pts Robert Parker. Drink now to 2020.
1998 Château Potensac – $31.14
Where do I start? The fact that Château Pontensac is the second wine of Château Leoville Las-Cases (which sells for over $250 a bottle) or you can get your hands on a 17 year-old fully mature bottle of it for way under $40? Somebody pinch me. The nose is beautifully mature with black currant, tobacco, leather, graphite and mushrooms. The palate adds cocoa to the black currant and tabacco. This wine will improve after 30 minutes in a decanter and is ready to drink now.
2005 Château Potensac – $39.19
Holy Cow! A 10 year old bottle from the legendary 2005 vintage that is made by such an esteemed Château. Life is good. The nose offers cherry, cassis, black currant and forest floor. The earthy palate echos the nose but adds intriguing mushroom, black pepper, and dark chocolate. Fine tannins and a smooth, lingering finish. Definitely a food wine that will pair well with grilled red meat. Decant for an hour. This wine will continue to improve for at least another decade.
We get started at 5:30pm and will fill your faces with tastes of Bordeaux until 8:30ish.
Open to the public. Share this with friends. We love seeing new faces.
Date: Thursday, May 28th – 5:30pm to 8:30pm
Cost: $5 (a one night membership)
Location: 606 Rivanna Ave. (just off Harris St.)
Park in any of the nearby business parking lots after 5:30pm.
Posted on May 01, 2015 by Michael Davis.
WHOA! I just got an email from Erin Scala (Sommelier at Fleurie & Petit Pois) that made me squeal with joy. Apparently, Erin has superpowers of vineous persuasion and was able to lure one of my all-time favorite Italian winemakers to Charlottesville for a wine dinner so steeped in sensory perfection that you'll need a cigarette and a moist towelette when it's all over.
Isabella Perego of Arpepe, will be at Fleurie Restaurant on Wednesday May 6th, pouring her perfectly-aged wines with a paired 5-course wine dinner. When I say aged wines I'm not kidding. Arpepe is one of those rare estates that will not release a wine until it's ready to drink. Their current releases include a 2006, 2005 and, I'm not kidding you…2001. Yep. She waited 14 years to release that wine. 
But that's just the tip of the "winemakers are crazy" iceberg. Isabella and her family grow these grapes near Italy's border with Switzerland, on hillsides so steep that they have to use a modified ski lift for harvest. Seriously. The good news is the intense work produces some of the most moving expressions of Nebbiolo I have ever tasted. In fact, you may recall a recent offer we did for the Arpepe Rosso di Valtellina. Many of you bought it…loved it and ordered more. 
This ain't a cheap date ($120) but it's so worth it for just the wines alone. These bottles start over $30 and go up to $100….and you'll be drinking 6 of them…with Chef Brian's outstanding food. Now I'm not feeling so guilty about raiding my kids college fund for this. Hell, they're cute and will marry well. 
So, cancel whatever plans you have for Wednesday, May 6th and reserve your seat. Here's all the deliciousness you can expect.
MENU
A vegetarian menu is available on request, please let us know when you make your reservation
Canapes
ArPePe Rosso Valtellina DOC 2012
Braised Highland County Lamb Ragu, Fresh Gnocchi
ArPePe Stella Retica Sassella DOCG 2006
ArPePe Rocca de Piro Grumello DOCG 2006
Grass-Fed Wolf Creek Farm Steak, Spring Vegetables, Bordelaise
ArPePe B.Consiglio Grumello DOCG 2005
ArPePe Vigna Regina Sassella DOCG 2005
Greens from the Chef's Garden
Fromage
ArPePe Rocce Rosse Sassella DOCG 2001
______________________________
Date: Wednesday May 6th
Time: 6:30pm
Cost: $120 per person ~ includes food & wine
Fleurie Restaurant
108 3rd St NE,
Charlottesville, VA 22902
Posted on Apr 20, 2015 by Wine Guild.
Our wine tastings are FREE and open to the public. Grab some friends and make an evening of it.
This Thursday, April 23rd, we're having a very special free wine tasting and pop-up restaurant. We'll have two of Oregon's "young gun" winemakers in the house, pouring their Pinots and giving you lap dances. What? It could happen.
Erin Nuccio of Evesham Wood Winery and Marcus Goodfellow of Goodfellow Family Cellars will be here pouring 2 whites and 5 gorgeous Pinot Noirs. Taste the wines, meet the winemakers, and have some of the following food from our partners at Kitchen Catering and Events and Flora Artisanal Cheese.
• Roast Chicken with White Beans, Herbs, Carrots, Mushrooms and Sauteed Greens.
• French Green Beans, Smoked Mushrooms, Jarlsburg Cheese, Egg and Confit Tomatoes on a Biscuit with Smashed Potatoes.
• Salmon Filet with Spring Vegetables and Herbs.
ABOUT THE WINES:
2014 Evesham Wood "Blanc du Puits Sec" Willamette Valley Pinot Gris-Gewürztraminer – $15.33
Oh yum! Farmed organically from non-irrigated vines, this white comes from blending a splash of Gewurztraminer into Colmar clone Pinot Gris. The Gewurz just lends a bit of body and lifts the floral notes to this otherwise crisp and zesty lemony, green apple profile. At the finish there's a terrific honeycomb nuance that adds yet another layer.
2013 Evesham Wood Pinot Noir Willamette Valley – $20.53
Consistently one of the very best values in American Pinot Noir! Lively and fresh with bright red cherry, cranberry, cinnamon and a slight chewiness on the finish.
2011 Evesham Wood Pinot Noir Le Puits Sec – $29.69
Boasting aromas of pomegranate and black currant, this pinot's nose is soft and delicate. Dried lavender accents flavors of dark plum and black raspberry fruit, with a savory mid-palate. Beautifully balanced with enough tannic backbone to age.
2012 Evesham Wood Pinot Noir Cuvee J – $40.69
The Cuvee J is a cornerstone of stateside Pinot Noir! Expressive nose of dried rose petal, boysenberry, and Middle Eastern spices entice you to gulp it, but don't! The complex palate echoes the nose with a remarkable complex and intriguing spice component, with a good potential for aging, and a lengthy finish that soars with a purple berry aroma.
2013 Goodfellow Pinot Gris Reserve Clover – $18.33
A classic lemon gold in the glass, Goodfellow's Clover opens with aromas of smoke, raw hazelnuts, lemon zest and tart pear. Bright and lively on the palate, the Clover presents subtle notes of lemon drops and dried bay leaf. Crisp and bristling with acidity, the finish is long and taut with a latent core of complexity.
2012 Goodfellow Bishop Creek Pinot Noir – $30.79
This has a gorgeous candy red color in the glass, with a rich, concentrated nose of black cherry and spice. On the palate, there's a welcoming plushness to the fruit; there's some richness, but also taut structure and good acidity. Intense blue-black fruits and gruff earthiness intertwine with muscular tannins to give you a wine that is both approachable and ageable.
2012 Goodfellow Durant Vineyard Pinot Noir – $32.99
The Durant starts with a bright cherry perfume, dried rose, and almond notes; these play in harmony with a deeper, darker bottom end. The palate is tangy and precise, offering intense strawberry and bitter cherry flavors with star anise and allspice nuances. It's got beautiful acidity, tons of dry extract, and substantial structure – this wine should age a decade with ease.
We get started at 5:30pm and will fill your faces until 8:30ish.
Date: Thursday, April 23rd
Time: 5:30pm – 8:30pm
Location: 606 Rivanna Avenue, Charlottesville, VA 22903
Free, and open to the public. Share this with friends. We love seeing new faces.
Posted on Apr 04, 2015 by Wine Guild.
Our wine tastings are FREE and open to the public. Grab some friends and make an evening of it.
This Monday, April 6th, we're celebrating the "Taste of Monticello Wine Trail Week" with a very special "A Night In Virginia" free wine tasting and pop-up restaurant. You'll taste 9 wines from 9 Virginia wineries, meet the winemakers, and can also dine on a selection of great food by our partners a Kitchen Catering and Events and Flora Artisanal Cheese.
The Wines:
Afton Mountain Vineyards – 2013 Festa di Bacco
Blenheim Vineyards – 2013 Roussanne
Early Mountain Vineyards – 2014 Rosé
Glass House Winery – 2014 Pinot Gris
Grace Estate Winrey – 2012 Tannat
Horton Vineyards – 2014 Private Reserve Albarino
King Family Vineyards – 2012 Meritage
Stinson Vineyards – 2014 Rosé
Trump Winery – 2009 Sparkling Blanc de Blanc
We get started at 5:30pm and will fill your faces with tastes of Virginia until 8:30ish.
Free, and open to the public. Share this with friends. We love seeing new faces.
Posted on Mar 22, 2015 by Wine Guild.
Our wine tastings are FREE and open to the public. Grab some friends and make an evening of it.
Join us this Wednesday, March 25th, for "A Night In Provence, France". You'll taste 5 wines from South of France and some Provencal food by our partners at Kitchen Catering and Events and Flora Artisanal Cheese.
The Wines:
2014 Triennes Rosé – $13.79
This blend of Cinsault, Grenache, Syrah and Merlot brings a bouquet of strawberries and white flowers with hints of vanilla. The palate shows the harmony and elegance that has earned world-wide appreciation for the rosés of Provence. A great wine for a sunny afternoon.
2014 Domaine Sorin Terra Amata Rosé – $13.79
7 varietals (Grenache 40%, Cinsault 15%, Syrah 10%, Mourvèdre 15%, Carignan 10%, Rolle 5%, Orgi 5%) are blended to create this beautiful rosé. The nose shows orange peel, grapefruit, lavender and sea salt aromas followed by flavors of strawberries, watermelon, peach, some pomegranate & citrus.
2011 Domaine La Blaque Rouge – $12.27
This wine drinks way over it's price point and ages beautifully. I buy a case of this every year. Mostly Syrah with a splash of Grenache, the nose shows cassis, cherry, black pepper and nutmeg. On the palate ripe blackberries, licorice, and soy make for a complex array of flavors. Pairs wonderfully with a Pepper Steak or grilled meats.
2010 Domaine du Dragon Cuvee St. Michel – $15.33
Another wine that drinks like it's worth twice the price. A blend of Cabernet Sauvignon, Syrah, Grenache and Mourvèdre. Full bodied, noble, and generous. Tannins are well balanced. A wine that you can cellar for up to 10 years….for $15.
2010 Château de Pibarnon Bandol – $42.35
A seductive bouquet of dark fruits, pepper, sweet spices, dried herbs, leather, beef blood and some forest floor. So intriguing that it is difficult to quit smelling. A fascinating wine with finesse, rather than raw power. A great value for the price. A classic Bandol that is drinkable now with a long decant but will age nicely for 20-30 years. If you want top-notch Mourvèdre look no further. Pair this with steak and you will be in wine pairing heaven!
The Menu:
Kitchen Catering will be offering the following Provencal dishes. Come hungry!
Trio of Tapenade, Fondue d'Aubergine and Bagna Cauda (anchovy) – $13
with tomatoes provencal crostini and veggies
Smoky Ratatouille – $13
with rice
Daube de boeuf (Beef Stew) – $15.50
served over fresh pasta
Nicoise Salad – $15.50
Dessert Tart – $5.50
As always, we'll also have the cheese plate from Flora Artisanal Cheese for $12.00.
We get started at 5:30pm and will fill your faces with tastes of Provence until 8:30ish. 
Free, and open to the public. Share this with friends. We love seeing new faces.
Posted on Mar 08, 2015 by Wine Guild.
Our wine tastings are FREE and open to the public. Grab some friends and make an evening of it.
Join us this Wednesday, March 11th, for "A Night In New Zealand". You'll taste 6 wines from this fantastic wine region. Plus, our pop-up restaurant will offer New Zealand inspired food by our partners at Kitchen Catering and cheese plates from Flora Artisanal Cheese.
About The Wines:
Lake Chalice Cracklin Savie Sparkling Sauvignon Blanc
Classic tropical fruits and citrus: grapefruit, orange, passionfruit, and gooseberry, with chalky minerality and hints of buttery biscuit. Bright acidity, hints of green herbs, and currant/green grape flavors make this crisp and very refreshing. Finishes with grapefruit and chalk.
2013 The Doctors Marlborough Riesling
Wow! It's like biting into a deliciously crisp Granny Smith apple, licking lime sherbet and eating your first of the season Central Otago apricot, all at one time! Easy to drink and with the perfect balance of fruit sweetness and fresh acitidy at a modest 8.5% alcohol who feels guilty having a second glass?
2013 Seifried Estates Sauvignon Blanc
Gooseberry, nettle and snow pea characters on the nose. The palate has pure grapefruit and pear on the entry and lovely natural fruit acidity to balance fruit weight. The wine lingers with a long finish making a lasting impression.
2014 MaiMai Hawkes Bay Rose
Spring is coming and we need a Rosé to make us happy. This Rose comes from Merlot from Hawkes Bay. Good stuff. Don't overthink it. Just drink it and grin.
2012 Carrick Unravelled Pinot Noir
Notes of herb, exotic spice, tobacco, and red fruits interlace together to form a complex aroma in the glass. This wine shows fine textured depth, the fruit and tannins provide a wonderfully balanced wine that is accessible in its youth but will continue to give generously for the next 5 years. A serious wine coming from the 1996 ''Le Chat'' and 1994 "Cairnmuir" vineyard plantings
2013 MaiMai Hawkes Bay Syrah
From the Red Metal Triangle in New Zealand's Hawkes Bay. This wine is full of delicious blackberry and plum fruits with a hint of spicy black pepper..
Date: Wednesday, March 11th
Time: 5:30pm to 8:30pm
Location: The Wine Guild/Kitchen Catering (606 Rivanna Ave.)
Free, and open to the public. Share this with friends. We love seeing new faces.
Posted on Feb 15, 2015 by Wine Guild.
This tasting is open to the public. Grab some friends and make an evening of it.
This Wednesday evening, Feb 18th, we'll be thawing your wind chilled patooties with some great food, wine, and friends. Some stellar Oregon Pinot will be tasted and our pop-up restaurant will offer the following dishes. All guaranteed to make you happier than when you arrived.
Menu by Kitchen Catering (with special guest chef Tucker Yoder)
Cherry Wood Smoked Trout - $16
with Broccoli Rabe, Bulgur Wheat and Hazelnuts
Pear Cider-Braised Pork Shoulder- $16
with Parsnip and Celeriac Puree, Sweet Potato Biscuits with Kumquat Preserves – $16
Wild Mushroom Risotto – $13
with Crispy Maitake Mushrooms, Pickled Turnips and Baby Greens
Spice Cake – $11
with Brown Butter roasted Apples, Salted Caramel and Maple Whipped Cream
Cheese Plate – $12
by Flora Artisanal Cheese
About The Wines:
2011 Biggio Hamina Pinot Grigio – $15.33
Tropical notes of melon and pineapple combined with mineral scents of wet stone. On the palate, the wine offers a surprisingly light mouthfeel and lives up to its Italian namesake, with crisp acidity, tropical and citrus flavor, nice minerality, and an intriguing finish (that included hints of fennel/licorice).
2013 Ransom Pinot Gris – $15.33
Only 400 cases were made of this Pinot Gris from the old vines in the Eola Hills. The nose shows with lovely aromoas of heirloom pears, clover blossom, and Meyer lemon. The palate offers vibrant acidity and flavors of fresh melon and almond brioche punctuated by an elegant vein of minerality. The wine finishes with energy and length, leaving behind an impression of citrus zest and sea minerals.
2012 Montinore Pinot Noir – $16.86
Yet year after year Montinore Estate manages to issue a Willamette Valley pinot noir that is not only affordable but captivating. The 2012 is light, balanced and deliciously inviting, with bright cherry fruit. It's not a blockbuster, and doesn't pretend to be profound. It's simply just right. – NY Times
2012 Belle Pente Willamette Valley Pinot Noir – $22.99
Fresh-picked blackberry, tart raspberry, earth and truffle. Made from declassified Belle Pente Vineyard (Yamhill-Carlton AVA) and Bella Vida Vineyard (Dundee Hills AVA). Less than 900 cases were made. The New York Times went crazy over Belle Pente's 2008 vintage, making it the #1 choice of their top ten 2008 Oregon Pinot Noirs.
2011 Crowley Pinot Noir Entre Nous – $28.36
Bright and juicy with flavors of dried strawberries, cola, and baking spice, winemaker Tyson Crowley's latest vintage is a crowd-pleaser with a real sense of place. Thanks to a commitment to natural winemaking with certified sustainable fruit, Crowley's wines reveal the best of the Dundee Hills: elegant, bold, and unflinchingly honest.
2012 St Innocent Pinot Noir Zenith – $34.49
The wine presents pronounced aromas of dark cherries, red raspberries with ground spices and hints of smoke. Layers of red and dark fruit dominate the palate with notes of roasted spices, dark flowers and forest floor flavors. This is a richly layered wine with complex flavors and medium weight tannins.
Date: Wednesday, February 18th
Time: 5:30pm to 8:30pm
Location: The Wine Guild/Kitchen Catering (606 Rivanna Ave.)
Posted on Feb 06, 2015 by Michael Davis.
Our wine tastings are FREE and open to the public. Plus, we're not as stuffy as our name makes us sound. Throw on some jeans, grab some friends and make an evening of it.
Yesterday, one of my favorite Italian winemakers says she's going to be in Charlottesville this Monday night and wants to do a tasting and pop-up restaurant dinner at The Guild. I dashed into the kitchen to tell chefs Morgan and Gabe (from Kitchen Catering) and this is where things went sideways. Will Richey is throwing a party on Monday night for his staff at The Alley Light…and he's stolen Morgan and Gabe to do the cooking. Grrr!!
What happened next will erase any doubt that I am the luckiest SOB you know. Tucker Yoder, just happened to be standing there and says "I'll do it". Seriously. You should rub me for luck the next time you see me.
So what we have is a very special Monday night free wine tasting, featuring rising star winemaker Francesa Vajra of G.D. Vajra. She'll be sharing her family's wines from Italy's Piedmont region and teaching us more about what makes this place produce such special wines. Some of my favorites are her Langhe Nebbiolo, Barbera d'Alba and of course the Barolo
Not enough? Well, Tucker Yoder will be offering the following menu of items that pair beautifully with these wines.
- Pork Tonnato with Romaine, Capers and Radishes $11
- Ricotta Gnocchi with Maitake Mushrooms, Kale and Herb Gremolata $13
- Stewed Cranberry Beans with Braised Short Rib and Sourdough $16
- Buttermilk Panna Cotta with Crispy Polenta Chip and Red Wine Stewed Pear $9
Sorry for the short notice, but you're just gonna have to deal with it…over a glass of Barolo and some of Tucker's amazing food. It sucks to be you, eh?
Date: Monday, February 9th
Time: 5:30pm to 8:30pm
Location: The Wine Guild/Kitchen Catering (606 Rivanna Ave.)
Posted on Jan 30, 2015 by Wine Guild.
Our wine tastings are FREE and open to the public. Plus, we're not as stuffy as our name makes us sound. Throw on some jeans, grab some friends and make an evening of it. Heck, the kids are welcome too.
This Wednesday, Feb 4th come taste some delicious Champagnes and sparkling wines just in time for Valentines Day.  Plus, our pop-up restaurant will showcase foods that not only pair well with bubbles, but that you can serve to your honey – including a  couple of morning after dish es , whoo-whoo!!
Menu by Kitchen Catering (with special guest chef Tucker Yoder)
• She Crab Soup with a side of jalapeno hush puppies and boiled peanuts – $13
• Fried Chicken with Farro and Kale Salad with Lemon-Kale Pesto and Roasted Grapes – $14
• Baked Eggs in Creamed Spinach, Mushrooms and Leeks with Smashbrowns and Toast – $11
• Soft Scrambled Eggs with Smoked Cod, American Caviar and Sourdough – $14
• Cheese Plate by Flora Artisanal Cheese – $12
About The Wines:
Domaine de Clos De L'Epinay Vouvray Pétillant Tête de Cuvée Brut – $14.18
This award winning sparkling Vouvray is made using 100% Chenin blanc and only the first press juice. Giving it a perfumed, concentrated aroma of citrus and apple with a deep palate that lingers.
Sektkellerei Szigeti Grüner Veltliner Brut – $21.83
Lots of candied pears and grapefruits in the lovely nose. Rather criso on the palate with citrus fruits, bitter oranges, minerals, and yeasts.
Michel Turgy Champagne Grand Cru Réserve Selection Brut Blanc de Blancs – $34.50
Made from 100% Chardonnay, it offers nice yeast on the nose, coupled with some floral, citrus, wet stones and a bit of smoke. On the palette you're met with tangerine, cream followed by lingering but subtle smokyness that creeps up from the back of the toungue during a nice long finish.
André Clouet Champagne Grande Réserve – $38.33
100% Organic Pinot Noir that spends six years on the lees, it offers full-throttle strawberry, wheat kernel, and stone flavors along with a pleasing touch of cream in the mid palate and finish – an excellent accompaniment to creamy pastas, poultry and richer seafoods.
1998 Charles De Cazanove Brut Stradivarius – $46.44
From an outstanding vintage, this blend of Chardonnay and Pinot Noir shows aromas of stone, yeast, mild apple, pear and cream. The palatte is deliciously creamy with brioche, nut and mushrooms with a powerful, hearty finish for an outstanding wine.
Date: Wednesday, February 4th
Time: 5:30pm to 8:30pm
Location: The Wine Guild/Kitchen Catering (606 Rivanna Ave.)
Free, and open to the public. Share this with friends. We love seeing new faces.
Posted on Jan 28, 2015 by Wine Guild.
First off, I realize that there are some new faces out there, and they are probably seeing their first [DEFCON] pick from the Guild. Here's a little explanation: we taste a lot of wine every week. Our few favorites end up in these offers and on the shelves at the Guild HQ. Awhile back, however, we thought, "how do we distinguish the truly amazing wines/deals without just draping the description in gushing hyperbole?" The [DEFCON] label was our answer. Truth be told, in our nearly eight (yes, it's been that long) years of Guilding, we've only used the designation a handful of times, and these wines represent the best of the best – not just in terms of pure greatness, but more in terms of what you're getting for your dollar. So, you're not likely to see DRC or Guigal's LaLa in these emails – ours are a bit more affordable – but just understand that these are the deals that you'd be a fool to pass up. 
Now, on to today's DEFCON: This is the Philippe Leclerc Bourgogne "les Bons Batons" 2011. This wine is not new to some of you, nor to me. We bought a handful of cases of the 2010 vintage back in late '13 at Will Richey's urging, and it quickly turned into a house-favorite Burgundy for a bunch of us. In fact, I've somehow had the discipline to hang onto a few bottles and had one not long ago – it is aging like a pro, and still has plenty of life to it. But then we had the opportunity to try the 2011 as soon as it came in last week…and damned if it's not fighting the 2010 for its spot! 
Philippe is located in the village of Gevrey-Chambertin, and that influence is obvious on this entry-level offering. It has muscle, weight and expression that you simply don't see in Bourgognes at this price anymore. This is what I loved about $18-20 Bourgognes ten years ago, but nowadays, it seems like a lot of them (unless you like spending $30) are wispy haute-cotes-ish husks. This stuff, though: it's meaty for a Bourgogne, yet still elegant and feminine.
Even on day two, the fruit is ripe and juicy, and a bit candied. It seems, even at this young age, more luxurious than a wine of this level is capable of. Under the initial layer of ruby fruit, you're first met with garrigue-ey herbs/spices, like sage, thyme and pepper. This persists quite a bit, actually, and is surrounded by some savory aromas, toasty oak, perhaps even a bit of caramel. This nose is broad, and giving, and, well, it just makes you happy to be alive! The palate, much like with the previous vintage, is a gleaming beacon of structure: bright, fresh red fruit up front; the mid-palate has the aforementioned weight and power and savory/herbal notes; the finish/edges of the wine consist of pliable tannins and assertive-but-balanced acidity. It ends on a very long note of fleeting flowers and fruits and spices, and is ultimately a tremendously satisfying and gratifying wine. 
This is drinking wonderfully now, but trust me when I say it has the structure, the backbone of acidity, the power and substance to keep improving for half a decade or more. The fact that the 2010 is still a baby is testament to that. And…the price…I mean, come on. 
So, here's the point in the DEFCON schtick where I eschew the breathless hyperbole and just drop the mic. Buy this wine. Lots of it. Thank me later. G'night! 
Philippe Leclerc Bourgogne 'les Bons Batons' 2011
Member Prices: Grand Cru: $20.71  ||  Premier Cru: $21.65
Typical Retail: $28.00
Please CLICK HERE to place your order. 
Posted on Jan 24, 2015 by Wine Guild.
It's no secret that Greek wine is a maze which few of us can truly make sense of. Despite tasting plenty of wines from the place that is largely considered the birthplace of wine, I still stumble through even pronouncing most of the varietals and regions on the bottles. And yet, I'd like to think I know greatness when I see (and taste, and smell) it. To wit: not too many years ago, I was introduced to the red jewel of Macedonia (northern Greece), Xinomavro, and it's henceforth been my focal point and standard-bearer when it comes to Greek reds.
Part of my affinity comes from its, well, its familiarity. This is not to say that it is necessarily boring or well-worn; instead, it's that I have reference points for it: Burgundian Pinot Noir and Italian Nebbiolo. It doesn't hurt that those two grapes from those two regions are amongst my favorites (and, let's be honest, produce some of the best wines on the planet). When I tried my first great Xino, I kept thinking, I could throw this out as a ringer at any Pinot or Nebbiolo tasting and blow everyone's mind. So I did, and it did. The best part is that, like most Greek wine, these are relatively undiscovered (for the time being) on the international market and thus remain very reasonably priced relative to the quality in the bottle.
Xinomavro is not an easy grape to grow, nor is it easy to make good wine from its juice. And yet the generous folks in Naousa (Naoussa) still see fit to try, and to make world-class wine for us, and charge but a song for it compared to similar quality in France or Italy. If your yields per hectare are too great, it will produce watery, acidic juice. If you go too far in the other direction, it doesn't really make it much better (law of diminishing returns). And so you have to strike a perfect balance with your yield, and then be a master in the winery to coax out the intrinsic beauty of this grape. Starting to sound like Pinot or Nebbiolo to anyone?
Okay, Xinomavro lesson is over; let's get to what you came for. This is not the first time I've offered Xinomavro, but it's been long enough that I've been able to actually try some of my old stuff from those early offers, and as expected, it's aging like its brothers-from-other-mothers in Burgundy and Piemonte. Well, I thought, it's time. You all need more of this stuff! I tried a few, and actually came up for air with a couple of bottlings from the same producer – one from younger vines for drinking now/soon, and the other from older vines for, well, drinking now or cellaring.
The estate is (don't worry about pronunciation, I'm sure I'm saying it wrong) Thymiopoulos. Situated in Naousa, they've been doing the biodynamic thing for a few generations now, and only use wild yeast (though their wine is not noticeably "funky"). I tasted two of their wines, and both are bottles you absolutely must have if you like great reds:
The first is the Thymiopoulos Xinomavro "Young Vines" 2012
This wine starts with a "wow": You notice right away that it has depth that no wine at this price has any business with; bright fresh violets and sunbaked rocks give way to savory meat and garrigue spice, with blueberries and cherries coating everything. The palate is just weighty enough to be satisfying, while the finish is wispy and magical like Santenay on a cool night. Perhaps most striking is its composition and balance, which makes me think that despite the price it will age very well for 5 years or more. It's drinking so well right now, though, you'll have to hide a few bottles from yourself
Thymiopoulos Xinomavro "Young Vines" 2012
Member Price: [private_member] Grand Cru: $13.19 • Premier Cru: $13.79 [/private_member]
Retail Price: $18.00
Buy Now!
The second is something that should be in your cellar for a decade (or more, if you have the discipline): the Thymiopoulos Xinomavro "Uranos" 2011  Where the Young Vines was more in the realm of Burgundy, this is pure Barolo. Inky, ripe, but still bright and lively. Big red fruit and dried herbs and licorice and wet stones, impressive weight, impeccable balance and electricity. The sheer energy and depth here, coupled with the naturally tannic grippiness, promises a decade or more of improvement in our cellars…and at this price, you can go 6 or 12 deep and not wince when you look at your credit card statement. Pass this up at your own risk – this is a truly amazing, world-class wine, for a fraction of what it should cost.
Thymiopoulos Xinomavro "Uranos" 2011
Member Price: [private_member] Grand Cru: $21.99 • Premier Cru: $22.99 [/private_member]
Retail Price: $30.00
Buy Now!