Posted on Jan, 29. 2014 by
Categories: Wine
We get lots of requests for Port, especially this time of year. Like many, I go in "cycles" when it comes to stuff like Port and Sherry; some of it is just the time of year, and some of it is just what I have a hankerin' for. Right now, after tasting a few Ports, that's my hankerin'!  Now, both of these ports are non-vintage, and both of them have been offered out by the Guild in the past…and they remain favorites of ours. Having retasted them both recently, I can say that the fire has been rekindled! Here are my notes from years past:
The first is the Noval Black (NV) from the world-renowned Porto producer Quinta do Noval…and it's a beautiful ruby port with body, power and elegance, all for around $15 (ha!). As a ruby, it naturally has less of the resinous, dried-fruit quality, and much more vibrant, rich, red-fruit character. It's not sappy or oxidative, and unlike the earthy dank-cellar-esque quality of the aforementioned 10-yr Tawny, it has a much-welcomed vibrancy and lightness to it. It's not all bright, though—there's definitely a dark, brooding, syrupy character (which defines it as Port, really), but without the overly-raisiny character… and with all the deep-red-blue notes, it's really a different monster. The acidity is soft but actually refreshing, and on the nose there is palpable energy (I suppose this is for the club scene, right?) buttressed by eucalyptus, garrigue, and graphite. All of this is contained within what is perhaps the most singularly silky texture a wine could ever contain. The tannins are just present enough to hold it together, and the acid just braces the fringes—inside, it's like liquid silk: so soft, so full, so viscous and coating. 
Look, like I said, I was skeptical because of various preconceptions, but I'm now a believer. I've been drinking this stuff here and there for the past couple weeks, and every time I pour it, it seems like a new wine to me. It's extraordinarily complex (especially for a marketing creation), and while it does have that easily-accessible quality that it was going for, it really is a perfect drink-now ruby Port. The packaging is sleek, classy, and not at all flashy (it even comes in a gift box for those looking for last-minute Christmas gifts). It's the perfect complement to the other, more raisiny Port discussed above, and for everyone asking for drinkable Port this holiday season, you need look no further!
Quinta do Noval "Noval Black" (NV)
Member Price: [private_member] Grand Cru: $15.58 • Premier Cru: $16.29 [/private_member]
Retail Price: $22.00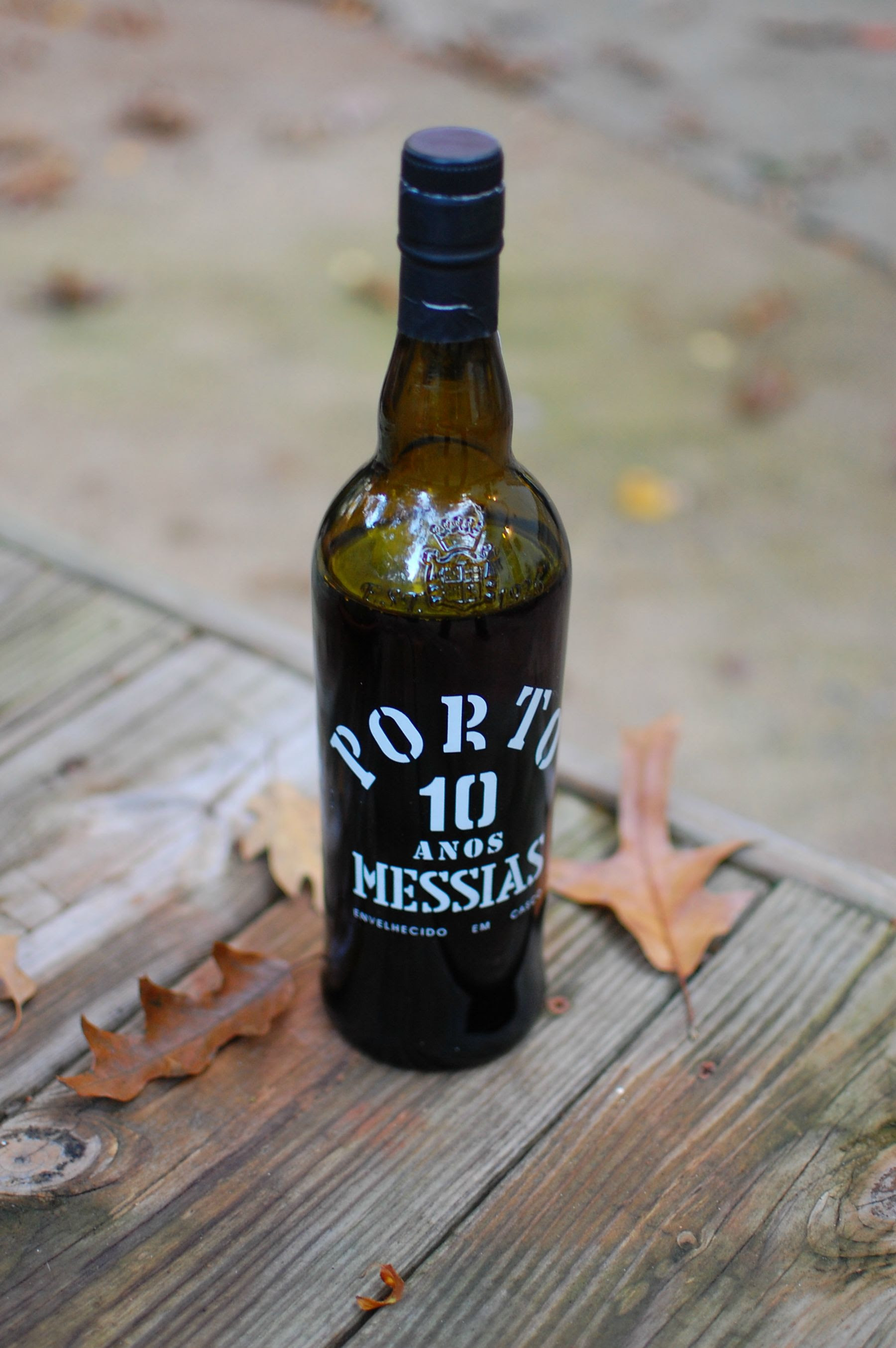 The second bottle is a 10 year old (10 years in the barrel) tawny from a new (to the states), small producer, Messias. Dionysos' Kevin Schultz personally selected this on a recent trip to Portugal, and I can't say enough about it. It really is the whole package. And look, I love good vintage ruby port, even late-bottled-vintage stuff, but for my money, right now, without worrying about aging or spending a bunch of money, good tawny is where it's at. It's not sherry, but it's in that direction, and that's what I love—the time in the barrel really brings another class of elements to the table. A brooding, raisiny nose is buttressed by soft aromas of leather and tar, and salty Marcona almonds, and pecans dressed with caramel. The palate starts with sweet cookies, caramel and a touch of smoky charcoal, but it's never actually that sweet. The alcohol is very well-integrated, as is the oak; the finish is dry, spicy and lingering. "Truly awesome" is how my notes finish out. It is. 
But it doesn't stop there (but wait, there's more!) Unlike so many great wines of late, this wine has a classic, romantic pre-Prohibition package that just says "porto!" to me (literally and figuratively). Simple, stenciled white lettering, no frills (see below), and the bottle actually comes in a very sleek, attractive box—making this the perfect gift idea. I'd be thrilled to get this under the tree, myself. Okay, so, remember way back in the subject line, where I used the word "deal"? I think I also said something about it being "the best ever". I meant it. We're talking under $19! I think I've said enough…this is the only tawny you need. 
Messias 10 Year Tawny Porto
Member Price: [private_member] Grand Cru: $18.15 • Premier Cru: $18.97 [/private_member]
Retail Price: $26.00