Posted on Jul, 23. 2015 by Wine Guild
Categories: Wine
If you've been paying attention to our Facebook page, you've likely seen some of our posts from this venture to Burgundy. We're lucky enough to simply be here, basking in the amazing landscape, architecture, culture, cuisine, and wine; the opportunity to visit a few of our favorite producers is the fois gras icing on this limestone-flavored cake.
While it's still vivid in my mind, I thought I'd send you all something tonight (we're six hours ahead of you) about our visit to Chablistoday…because it was eye-opening for us all. After an excellent seafood-centric lunch in the town center (paired with some great 1er Cru Chablis, because what else?), we visited a Guild favorite, Domaine Jean-Marc Brocard. The Guild has long been a fan and supporter of Brocard's wine, and some of you may even still have a bottle or two laying around (if you had the discipline that I didn't). What we knew was that these are some of the best wines in all of Chablis, but what didn't we know…well, where to start?
Jean-Marc started with virtually nothing in the 1970s. Chablis was still not fully recovered from its destruction in the second world war, yet he saw something here, he felt the potential; so he started small with a few rows and a few wise mentors, built his way up, and eventually was instrumental in helping the entire Chablis region recapture its rightful place as one of the most esteemed winegrowing regions on the planet. Today, the Domaine is one of the top five largest producers in Chablis; yet of those five, Brocard is the only one that remains an independent family business.
The estate is, at first glance, a modern operation. Larger-scale (by Chablis standards), entirely surrounded by vine rows, and well-outfitted; down the hill, an impressively large production winery with "green" roofs and little forklifts scurrying about. But you turn around, and there's the Chapel of Sainte Claire.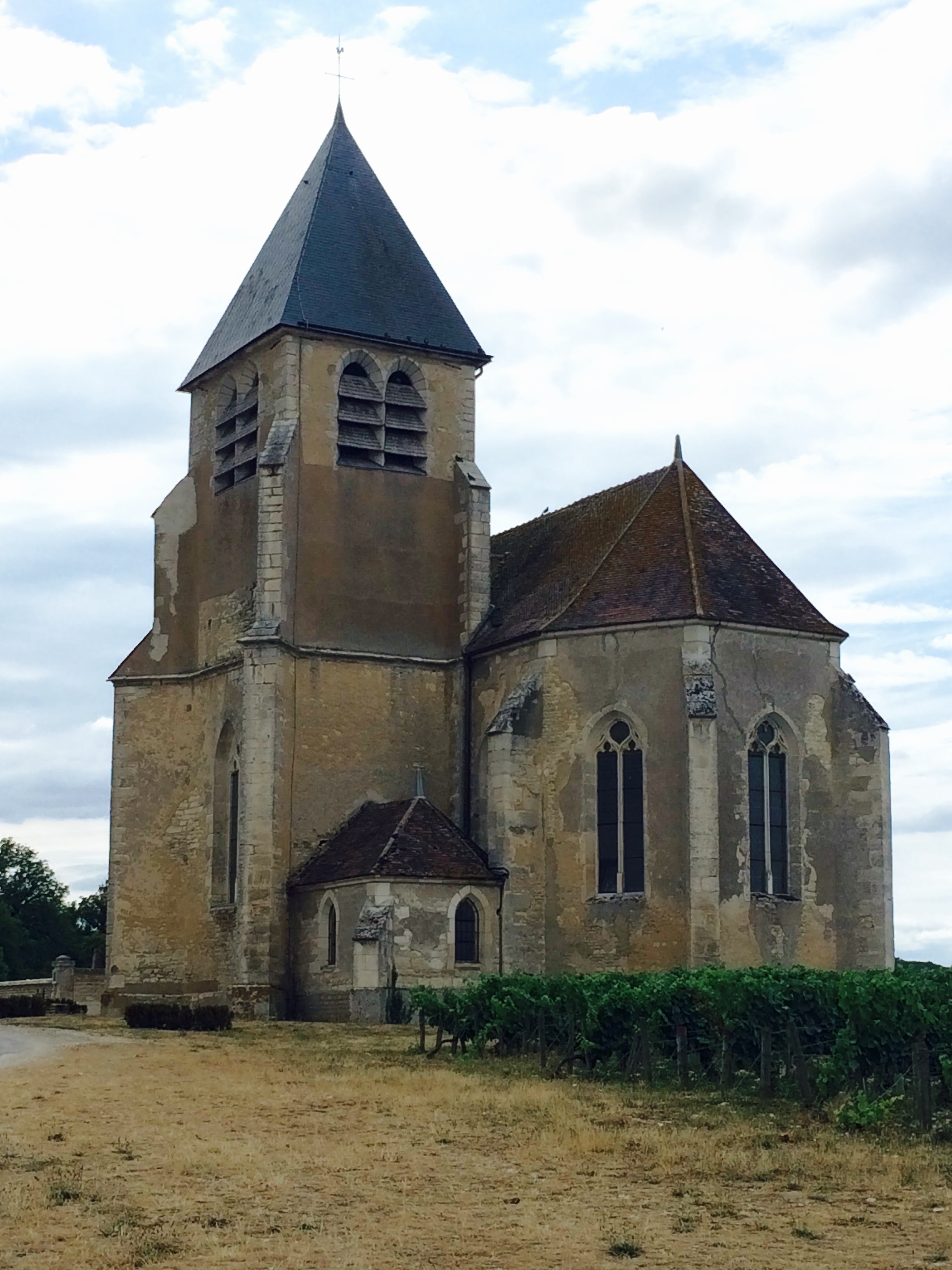 Surrounded by Chardonnay, this is the old and the new. Such as it is with the wine.
Where Jean-Marc helped restore the Chablis region, his son Julien has brought a "modern" bent to the operation, pushing more and more of their large stable of vineyard sites towards organic and biodynamic wine creation. This is difficult, and it doesn't happen overnight, but it inarguably brings a realness to the wines; currently, the majority of their vineyards are certified organic, with a push on the rest. Meanwhile, a focus on the vine and the fruit and the earth, rather than manipulation inside the winery, results in some of the most pure, unveiled, vivid displays of the effect of terroir that you'll find.
Between three producers, we probably tasted around 35 wines today, from Petit Chablis all the way up to the various Grand Cru sites, and it was a master class in how the blank slate of Chardonnay can amplify the soil, the vintage, the microclimate; sometimes like a bullhorn, sometimes like a whisper. One thing was crystal clear, though: terroir matters. The soil, the sun, the breeze, the water, the temperature, it all results in vastly different wines; one of the starkest (and most intriguing) contrasts was between Brocard's 2014 Sainte Claire Chablis and their 2014 Sainte Claire Vielles Vignes Chablis. Both are from essentially the same sites. Both are from the same vintage, and the same producer, and are vinified in the exact same way. Yet, the Vielles Vignes has a richer, more serious saline/seashell character. Vielles Vignes means "Old Vines", which in turn means that their roots go deeper. Here's the difference a few feet can make in the soil under Chablis:

Brocard has left this wall in their cellars open, to illustrate the geology of Chablis in very real terms. On top, limestone, in layers. Beneath, Jurassic Kimmeridgian (calcareous clay replete with seashells, as this was once all ocean). The deeper they go, the more these vines work, and the more elemental characteristics they pick up along the way. It's not only fascinating, it's the backbone of great wine…and Brocard's focus on real winegrowing, on fruit and vines and earth, rather than oak and chemical manipulation, bring this all to bear in a rather astounding manner.
These are wines of grace, purity, power and elegance. This is Chablis.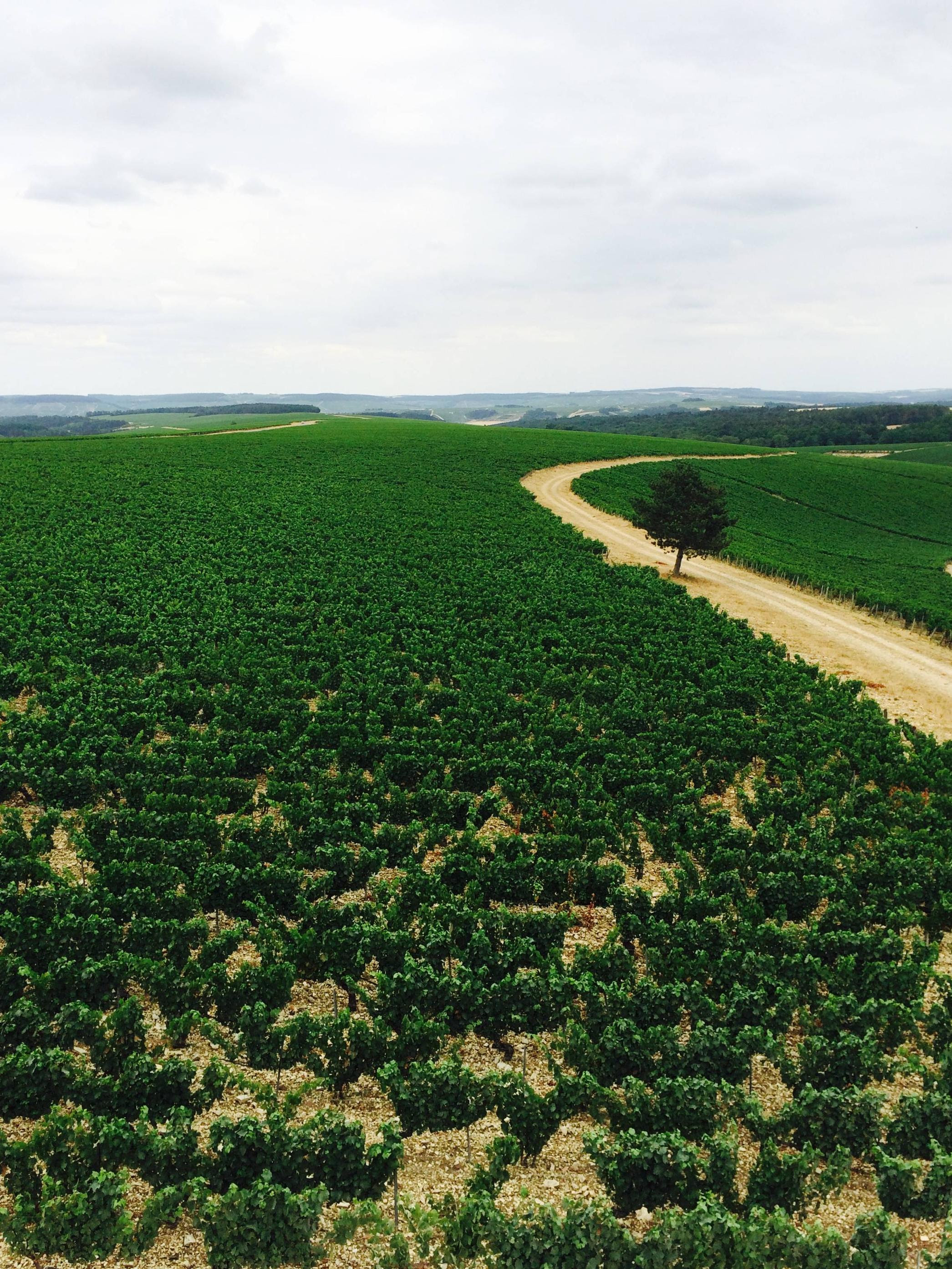 Looking down at Brocard's sizeable vineyards
We have a whole pile of notes, but there are a few that deserve your undivided attention. If you want more info, there are many Premier Cru and even some Grand Cru wines available from Brocard; these are merely a starting point into the rabbit hole of some of the greatest Chard on earth:
Domaine Jean-Marc Brocard Sainte Claire

Chablis

2014 [Members: $18.60  ||  Non-members: $23.25]: This has long been a staple of the Guild, and 2014 is shaping up to be an excellent vintage. The wine, on the whole, is bright and electric, full of energy (it's still young, yet); there are notes of smoky flint and toasty crackers mingling amongst juicy, plump nectarine and lemon. Beyond, there are hints of salinity and stone, with tart lychee-like bursts all over the place. The mouthfeel is pleasantly weighty, but always ephemeral and wispy at the end, leaving you wondering and thinking…the crisp purity of this wine is striking, and is thus a perfect illustration of the estate's philosophy. 
Domaine Jean-Marc Brocard Sainte Claire

Chablis

Vielles Vignes 2014 [Members: $24.00  ||  Non-members: $30.00]: Take the above wine, add some weight, seriousness, flint and seashells and you have the VV. They are notfundamentally different, but the devil is always in the details. Shelling out a few extra bucks for the VV is absolutely worth it, but I suggest you get both and do a side-by-side tasting of your own. This takes it to another level, with more pronounced herbs, flowers and earth, yet it is again a very vivid, pure wine. 
Domaine Jean-Marc Brocard Premier Cru Fourchaume

Chablis

2013 [Members: $37.20  ||  Non-members: $46.50]:This is a beautifully complete wine, and the obvious jump in price corresponds to a tremendous feeling of accomplishment that you can feel surrounding it. This is an incredible example of the difference terroir can make, with fuller weight, bigger fruit (but never too big), more pronounced saline and marine elements, and more spicy green apple and flint. 2013 was a rather difficult vintage due to hail, but as in many inconsistent vintages, there were winners and losers – this wine was an obvious winner. It is proof that what they are doing with these vineyard delineations matters, and as a testament to both honest winegrowing and the consequences of location, it deserves a place at your table.

And with that, Bonsoir!
Please CLICK HERE to place your order.